What Ohlala, the Tinder for Escorts, Can Tell Us About the Future of Dating Apps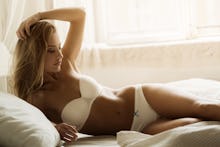 While technology has made it possible to get cheap Chinese food delivered to your door in less than 30 minutes, most dating apps can't guarantee that you'll find a hookup as quickly. That's because users tend to waste a lot of time messaging back and forth before ever meeting up IRL: In fact, according to the Pew Center, only about two-thirds of online daters have ever met up with another user IRL.
Ohlala, a Berlin-based app that debuts in New York today, is looking to change that by giving users an incentive that's a little better than the promise of an awkward, 15-minute coffee date: money. It's being touted as the "Uber for escorts," but Ohlala's CEO and co-founder Pia Poppenreiter refers to it as a "paid dating" app. 
"The trouble with dating apps is the expectation management. I've been on my fair share of dates and it's hard to know what someone is looking for," Poppenreiter, 28, told Mic. On Ohlala, that expectation is fairly clear. 
As Poppenreiter told Mic, her fascination with dating apps and her interest in the economics of sex work led her to pitch her first venture, Peppr, an app that connected sex workers with clients. The app was available in Germany, where prostitution was legalized in 2002.
When Pepper launched in 2014, it was covered extensively in the German media and its user base grew rapidly. But Poppenreiter felt that it wasn't ready for consumers, so she scrapped the venture and started over with Ohlala, which officially launched last August. The app allows users to arrange paid dates with terms agreed on by both parties. Verified male Ohlala users can send out date requests, which notify female users in the area. Once a female user accepts a request, the male user can see her profile and message her to iron out specifics. 
Ohlala was "designed with women in mind," according to Poppenreiter: Men cannot see or browse female profiles until a user answers a request. The Ohlala team is currently working on expanding to allow women to request dates and to be inclusive of all sexual orientations. Above all else, Poppenreiter said, OhLaLa places an emphasis on efficiency, connecting users within one night by limiting the timeframe for answering requests to a mere 21 minutes. 
"I think it fits the needs of New Yorkers who are so busy," said Poppenreiter. "People know what they want and don't want to waste time."
When it first launched, Ohlala was immediately dubbed an escort service. Yet Poppenreiter is quick to distance the company from that reputation.
"Ohlala is not an escort service and will actively tell its users to not be promoting any illegal activity," Poppenreiter told Mic. 
Yet it's undeniable that the idea of paid dating is virtually indistinguishable from escorting (indeed, the app has already gained a reputation as an escort service in Berlin). The fact that a certain amount of money is agreed upon beforehand ensures a guaranteed date: Unlike on other apps, your date essentially becomes a contractual obligation.
Escorting apps and platforms are technically legal in the United States, in the sense that whatever happens after money consensually changes hands is between the escort and the client. Yet the government can often target such websites and apps if they are suspected of promoting illegal sex work, according to Sienna Baskin, Managing Director at the Sex Workers Project, a New York organization that provides legal and social services to sex workers.
"Sex workers have been on the internet for a very long time," said Baskin. "Platforms that offer clients can increase safety because there is an ability to screen a client beforehand."
According to the World Health Organization, the criminalization of sex work puts workers at increased risk of violence and HIV/AIDS and other STDS. Amnesty International moved in August to support the decriminalization of sex work globally.
Baskin says for American sex workers, privacy is key and many workers don't use their real names. On Ohlala, female profiles aren't browsable and can't be seen until the user answers a request, an anonymity that prevents the embarrassment of being seen by a co-worker or ex and also a sense of security, said Poppenreiter. 
Ohlala also verifies users through credit cards and IP addresses, making it harder for offenders kicked off the app to get back on. That's not always the case for dating apps like Tinder and Grindr, which rely solely on Facebook verification and have seen a spike in criminal allegations as of late. 
The question is, though: Can an app like Ohlala actually be beneficial for escorts' safety?  Baskin said it was hard to gauge how secure the app could be for U.S. workers given laws around communicating about sex work.
"These platforms are helpful, but they are also under attack," she told Mic. This past August, for instance, the gay escort site Rentboy was shut down by the federal government in August in a case that's still open.
"We live in a country where sex work is a crime and that leads to a large amount of stigma and legal consequences," Baskin said. Regardless of whether Ohlala markets itself as a "paid dating app" or an escort app, it'll likely have to navigate that stigma.