Bernie Sanders Went Full Superhero, Rushing to the Aid of a Man Who Fainted During Speech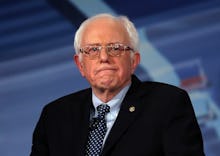 It's a bird! It's a plane! It's a... Democratic Socialist? 
All in a day's work for Bernie Sanders, presidential candidate by day, superhero by night.
In anticipation of the New Hampshire primary on Feb. 9, Sanders was giving a speech on gun control when an on-stage supporter fainted. And Sanders' Batman-esque response has people hailing him as a hero. 
After flinching at the sound of the man hitting the floor, Sanders immediately sprinted over to the man and called for a physician. Thankfully, the man quickly regained consciousness and was led off stage.
Afterward, Sanders returned to his podium appearing visibly concerned. He sighed, regained his composure and returned to talking without remarking on the kerfuffle.
This is not the first time SuperSanders has come to the rescue of someone in need. In October, he helped save MSNBC reporter Andrea Mitchell, who was nearly crushed in a media scrum surrounding the candidate in the wake of the first Democratic primary debate in Las Vegas, Nevada, on Oct. 13.
She can be heard screaming, "Help me!" repeatedly before Sanders hears her and intervenes:
He implores the overzealous, swarming media to back up and allow room for the clearly distressed Mitchell, and then proceeds to answer her questions.
So, America, if you're looking for a president who'll come to your aid in times of crisis, you might have found your guy.
Someone find this man a cape.
Watch Sanders' New Hampshire speech here: