Is M. Ward on Tour in 2016? Here's What We Know His Next LP Release and Roadshow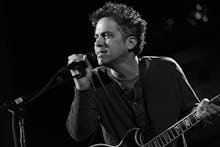 Scott Dudelson/Getty Images
Indie folk giant and solo act, Matthew Stephen Ward, aka M. Ward, is gearing up to give fans his ninth studio album, More Rain, which follows 2012's A Wasteland Companion. The prolific Portland, Oregon, native has been stepping into the spotlight as of late ahead of the LP's release, and this week, made an appearance on The Late Show with Stephen Colbert, where he performed two tracks off the forthcoming LP, "Girl From Conejo Valley" and "Confessions." M. Ward will also embark on a nationwide tour in support of the album, and even has two shows scheduled before the album is expected to surface on March 4. More Rain is currently available for preorder through iTunes.
M. Ward's roadshow begins with two shows in February, one on Feb. 4 at New York City's Beacon Theater and another on Feb. 6 at the Ryman Auditorium in Nashville, Tennessee. 
Read more:
After the album's release, the musician will head to Saxapahaw, North Carolina on April 29, and continue on with shows scheduled up and down the East Coast before hitting Sasquatch Music Festival in George, Washington. The fun continues for M. Ward with a handful of more performances, before the artist's concluding show at Pabst Theatre in Milwaukee, Wisconsin on June 17. Here's a complete list of tour dates and ticket purchase options.
Judging by a video teaser the artist uploaded to YouTube on Dec. 2, and a music video for "Girl Fron Conejo Valley" posted to YouTube on Jan. 13, longtime M. Ward fans can expect more of his signature, lush folk rock balladry on More Rain.
Lyrics: On "Girl From Conejo Valley," M. Ward returns to a subject he does well — big sky, open road imagery and a cowboy's mentality. "Slow bring winter heart," the lyrics sound off, "First name Ralo / Walks on good behavior from his self / And my old girlfriend used to not to / But now knows him well."
"Slow-thinkin' Lincoln," the song continues, "Nicknamed needles / Used to call me deep down from his / little corner of hell." The chorus rings out, "And my old girlfriend / Used to not to but now knows him well / So I say / Helicopter, throw me a line / The girl from Conejo Valley / used to be mine."
In fact, "Girl From Conejo Valley" may remind longstanding M. Ward fans of much of the aesthetic that permeates 2009's Hold Time (think: "For Beginners" but more graduated without sounding over-produced). 
M. Ward has also made available a music video to "Confessions," a more subtle yet still powerful track that showcases swirling vocals and, lyrically, a demand for earnestness.  
And M. Ward is no stranger to truth telling. 
"I think one of the biggest mysteries of America right now is this: How are we able to process unending bad news on Page One and then go about our lives the way the style section portrays us?" the artist says, per his record label, Merge Records. "There must be a place in our brains that allows us to take a bird's-eye view of humanity, and I think music is good at helping people—myself included—go to that place."
M. Ward's first LP was 1999's Duet for Guitars #2 , after which came 2001's End of Amnesia and Live Music & The Voice of Strangers, 2003's Transfiguration of Vincent, 2005's Transistor Radio, 2006's Post-War, 2009's Hold Time, and his most recent LP in 2012. The artist is also well-known for his releases under indie folk bands Monsters of Folk and She & Him, which sees the artist team up with American actress and singer Zooey Deschanel.
Buckle up and get ready for M. Ward's March 4 release, because from what we've heard so far, the road ahead sounds promising.
More Rain track list
1. "[More Rain]"
2. "Pirate Dial"
3. "Time Won't Wait"
4. "Confession"
5. "I'm Listening (Child's Theme)"
6. "Girl From Conejo Valley"
7. "Slow Driving Man"
8. "You're So Good to Me"
9. "Temptation"
10. "Phenomenon"
11. "Little Baby"
12. "I'm Going Higher"