Must-Have Spotify Dance Playlists to Get the Blood Pumping and the Party Going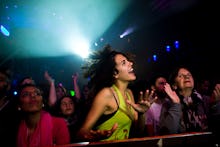 Victor R. Caivano/AP
Some say dance frees the soul. Others say it's the best exercise in the world, as it lifts spirits while exercising muscles typically ignored in traditional workouts. Regardless, if you're going to strap on your dancing shoes, a good playlist will be required to keep the rhythm going and get your body in the groove. 
That's where Spotify comes in. The music streaming service has several playlists designated specifically to dancing, while other fast-paced track lists offer high-intensity beats to get the blood pumping. Luckily, the music streaming service excels in its playlist content, and there are countless options to choose from depending on taste and mood. 
Read more:
Here are just some of the best playlists to dance to on Spotify:
Dance Workout
Dance Workout will have you on your feet with a steady stream of hits from some of the most notable pop stars in the music industry, including Ellie Goulding, Rihanna, Lady Gaga and Bruno Mars. With over five hours of jams, most songs focus on a fast pace tempo, while the play list itself flows quite nicely, offering a consistent pace to dance along to.
Cardio
Cardio is a great playlist to dance to as the tracks are all fast, fun and uplifting. Electronic group Major Lazer's "Light It Up" will have you busting out moves you never thought possible before, while Carly Rae Jepsen's "Run Away With Me" and DNCE's "Cake By The Ocean" will allow smooth transitions between the quicker beats. 
Fun Workout
Though this playlist only offers 30 songs, lasting under two hours, its selection provides some secret weapons to busting out the best moves on the dance floor. Fun Workout truly is a fun playlist to dance to, with artists like Diplo, David Guetta, Flo Rida and even Selena Gomez serving up pop jams which somehow seamlessly mix together, making the time fly. 
Power Workout
This playlist will quite literally power you through your workout. The song selection ranges from edgy classics like Kanye West's "POWER" to the more subtle head bangers like Travis Scott's "Antidote." The playlist is quite extensive, with over 120 songs and eight hours of listening.
Intensity
Electronic meets hip-hop in this varying playlist, with notes of contemporary hits like "Black Skinhead" and "Flex," while also pumping out classic hip-hop hits from Pusha T, Jay Z and Rick Ross. The feel of the playlist varies over the course of the 82 songs, which provides for different dance experiences throughout your workout — all of which are quite intense.
Wild & Free Workout
If you're hoping to steer free from club bangers and top 40 hits, the Wild & Free playlist may be your best bet. The jams are still all fast-paced and suitable for dancing, including Mumford & Sons "I Will Wait," Fleet Foxes' "Mykonos" and Great Lake Swimmers' "Your Rocky Spine." Though you won't be hearing any Nicki Minaj or Kanye West in this three hour workout playlist, the tunes provide for a unique dance experience with fast folk music.