Guns N' Roses BBC Documentary: Date, Time, Channel and How to Watch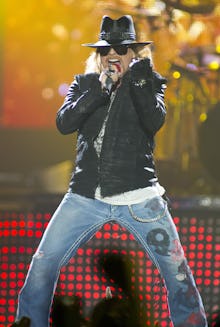 Paul A. Hebert/AP
It's a good year for Guns N' Roses fans. Slash and Axl Rose made up, the band is set to perform at Coachella in April and to top it off, BBC is airing a band bio-documentary called The Most Dangerous Band in the World: The Story of Guns N' Roses on Friday.
The documentary will air Friday on BBC Four at 5 p.m. Eastern and feature exclusive interviews with the band members, their former managers and others who influenced their success. It's directed by the coveted Jon Brewer, known for directing B.B. King: The Life of Riley and Jimi Hendrix: The Guitar Hero.
Read more:
"This raw, insightful and compelling documentary tells the story of how it all began and what really happened behind the scenes," BBC wrote in a statement about the documentary.
Guns N' Roses' Coachella reunion performance will be the first time Slash and Axl have shared the stage since July 1993, according to Rolling Stone. The band's also rumored to be conjuring up a forthcoming reunion tour that would kick off this spring in Las Vegas.