The Best Songs About Cities That Bring Us Back to Our Hometowns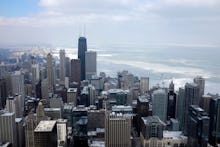 Kiichiro Sato/AP
The infectious feeling we get when listening to a great song about our hometown is one of life's most genuine pleasures. It ignites a swell of pride and a feeling of belonging that gives us goosebumps, a beaming smile and makes us want to hop on a plane back home, if we left to experience other cities. 
The best musical odes to cities have even become unofficial anthems for their city, such as Billy Joel's "New York State of Mind" and Dropkick Murphys' "I'm Shipping Up to Boston."
Read more:
Here are Some of the Best Songs Dedicated to Cities That Will Take you Back to Your Hometown:
New York City: Alicia Keys — "New York" and Billy Joel — "New York State of Mind"
It's impossible to compare the inimitable Alicia Keys' "New York" to the inimitable Billy Joel's "New York State of Mind." Both embody the city's infectious vibe in vastly different ways, which represents the unmatched versatility of the concrete jungle that is New York City.
"Even if it ain't all it seems/ I got a pocket full of dreams/ Baby I'm from New York/ Concrete jungle where dreams are made of/ There's nothing you can't do."
"Some folks like to get away/ Take a holiday from the neighborhood/ Hop a flight to Miami Beach/ Or to Hollywood/ I'm taking a Greyhound on the Hudson River line/ I'm in a New York state of mind."
Chicago: Kanye West — "Homecoming"
Kanye West was raised in Chicago's South Side after moving there from Atlanta, Georgia, with his mother, Donda West, at age 3. At first listen, it sounds like Yeezy's rapping about a girl he met when he was 3 years old — but it's an endearing metaphor for his beloved Windy City.
"I met this girl when I was 3 years old/ And what I loved most she had so much soul/ She said, 'Excuse me li'l homey, I know you don't know me/ But, my name is Windy and I like to blow trees.'"
Boston: Dropkick Murphys — "I'm Shipping Up to Boston"
"I'm Shipping Up to Boston" was first made famous in Martin Scorsese's 2006 cult-classic The Departed based on Boston's notorious Irish gangster Whitey Bulger. It's since become an unofficial anthem of the city, especially after then-Boston Red Sox relief pitcher Jonathan Papelbon performed an Irish jig after the team's 2007 American League Championship Series championship win.
Atlanta:
Being that Atlanta is arguably the unofficial capital of hip-hop, it feels wrong not to dub Jermaine Dupri and Ludacris' "Welcome to Atlanta" the unofficial Atlanta anthem. Before the rap game emerged in Atlanta in the '80s, however, it was inspiration for some of the most influential soul music. Though Ray Charles' "Georgia on My Mind" isn't specifically about Atlanta — as he was born in Albany, Georgia — its nostalgic, soulful melody can transport anyone to the streets of the ATL.
"Welcome to Atlanta where the playas play/ And we ride on them things like every day/ Big beats, hit streets, see gangstas roamin'/ And parties don't stop till eight in the mornin'."
"I said Georgia/ Oh Georgia, no peace I find/ Just an old sweet song/ Keeps Georgia on my mind."
Miami:
We're not not going to rank Will Smith's old school "Miami" the 305's unofficial anthem. The song perfectly emulates the diverse, lively city home to some of the best parties and most attractive people. 
"Don't get me wrong, Chi-town got it goin' on/ And New York is the city that we know don't sleep/ And we all know that LA and Philly stay jiggy/ But on the sneak, Miami bringin' heat for real/ Y'all don't understand/ I never seen so many Dominican women with cinnamon tans."