The Delay of Drake's 'Views From the 6' Is Producing the Best Memes on Twitter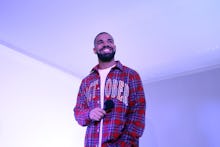 Cole Burston/Getty Images
Drake fans are hungry for the Canadian rapper to release his upcoming studio album Views From the 6 — and they have been for quite some time. The rapper recently announced on the OVO Radio show that the record will now be released in April. And though the artist threw fans a bone in the form of a single, "Summer Sixteen," not everyone's thrilled about waiting until spring to unwrap the highly anticipated LP, which trails the Toronto-bred rapper's 2013 studio album, Nothing Was the Same.
Read more:
Drake's single, "Summer Sixteen," is available for purchase on iTunes.
The prolonged wait time for Views From the 6 has caused no shortage of coverage from media outlets, and fans haven't been entirely understanding about the delay. As proof of how Drake's fans feel about waiting on his next drop, here you have it: a roundup of Twitter reactions that show how fans really feel about waiting on Drake.
Despite all the heat, Drake fans are a loyal bunch, and much of the chatter on Twitter expresses a bottomless amount of excitement for Views From the 6. In other words, Drake might be late, but many think that the LP will be well worth the wait.
In the meantime, at least we can all stare lovingly into Drake's eyes thanks to his recent appearance in T-Mobile's Super Bowl 50 ad, a spot titled "Restricted Bling." It may not be what we've all been waiting for, but Drake's winning smile just about eases the pain of waiting.