Zayn Malik Releases an Acoustic Version of "Pillowtalk"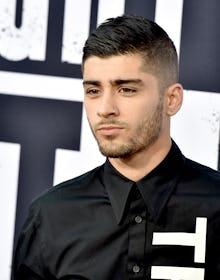 Last year, emoji hearts broke across the world when Zayn Malik announced his departure from boy band One Direction. He had to "do what felt right in his heart," as he put it in an official statement. On Friday, the world heard the first glimpse of the music inside it. His first single, "Pillowtalk," is far bolder and more aggressive than any of One Direction's light, uptempo pop and rock. 
But Malik wants the world to know he can still get in touch with his softer side.
Malik shared on Wednesday an acoustic version of his debut, subtitling it "the living room session." Stripping away the dance beat and the brazen synths, Malik's falsetto has a chance to really come to the fore. On the song's last chorus, he shows all that he can do with it.
Malik has been finding it much easier to write and record since leaving One Direction, and he's been doing so at a breakneck pace.
"I'll come down here and record maybe seven songs a night," Malik told Billboard, taking the magazine on a tour through his home studio. "That's because I'm enjoying what I'm doing. I'm not censoring myself anymore, so I'm not tired. I love it."
Leading up to the release, Malik shared two Snapchat videos of himself recording the song via Twitter. For a makeshift living room session, he's got a pretty stacked setup.
Listen to the full single via Apple Music and compare it with the single version below.