Representation Is a Trend on TV — But Not Network TV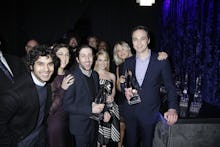 "Ladies and gentlemen, welcome to diverse TV."
Two-time SAG Award winner Idris Elba may have been half joking when he accepted his first award of the night last week. But the sentiment behind his jab became the takeaway of the night. While the film industry is fixated on its limited vision of what audiences want — namely, straight white men — television, we are told, is a shining example of what diversity on screen really looks like.
After all, just on SAG night alone, actors like Uzo Aduba (Orange is the New Black), Jeffrey Tambor (Transparent), Viola Davis (How to Get Away With Murder), Queen Latifah (Bessie) and Elba (Luther) all won, offering a television landscape ripe with complex characters that exemplify that catchy buzzword, "diversity." This may be more wishful thinking than we'd like to admit.
A closer inspection of those SAG wins shows an image of television that's virtually unrecognizable in network TV. While Netflix, Amazon (also a big winner at the Golden Globes), Hulu and other streaming services keep broadening the very definition of "television," they are doing so by telling stories that would flounder on ABC, CBS, Fox and NBC — the four networks that continue to dominate the ratings game and continue to center their shows on white protagonists.
In hopes of illustrating that we live in a world with "too much television," cable network FX released a list of all primetime series that aired on television in 2015. Of the over 1,400 shows on the list, 421 are original scripted series. As they were sourced from Nielsen ratings data, shows like Master of None, Narcos, East Los High and Mozart in the Jungle are all absent. What they offer instead is a look at what mainstream shows have broad appeal. The numbers are almost as disheartening as looking at Hollywood box office hits and expecting to find people of color. This is a systemic issue, but one which has been a topic of very public discussion for several years running.
Of the top 50 scripted series that aired on television last year, only six centered on nonwhite protagonists, with only Fox's breakout hit Empire at No. 4 and CBS's Scorpion at No. 7 making it to last year's top 10. That the other four shows that make up the top five of the list have people of color in supporting roles — CCH Pounder in NCIS: New Orleans, Danai Gurira in The Walking Dead, Cote de Pablo in NCIS — shows progress, but one which is premised on an industry that continues to favor white performers.
Take The Big Bang Theory, the year's No. 1 rated television show. The Chuck Lorre sitcom has blossomed into a true ensemble comedy, with Johnny Galecki, Kaley Cuoco, and Jim Parsons making way for a broader cast without whom the success of the show would not be possible. British-Indian actor Kunal Nayyar, for example, plays Raj and has been a regular cast member from the beginning. But his salary doesn't come close to matching the million-dollar rates his co-stars make. This is even after protracted negotiations ahead of the show's eighth season in 2014 which almost cost the actor and fellow cast member Simon Helberg their roles on the hit CBS show.
More damning still is the fact the list is full of all-white ensemble shows like The Goldbergs, Two and a Half Men, Blue Bloods and Life in Pieces. That so many other series like Zoo, Limitless, and Madam Secretary barely miss the cut by their inclusion of only one prominent nonwhite character further exemplifies the way performers of color continue to be underserved even in the seemingly more welcome medium of television. This even after last year's pilot season pushed a prominent industry publication to ask whether "ethnic casting" was too much of a good thing, an offensive query that nevertheless shows the undercurrent of racial biases that still afflict the television industry.
Lest we take diversity to only encompass race, these top 50 series exemplify the gender bias that Hollywood A-listers continue to call out. Of the top 10 shows, only one (NBC's Blindspot) is arguably centered on a female protagonist — though Empire would admittedly not be the phenomenon it is without Taraji P. Henson's Cookie. The rest of the shows are either ensemble shows organized around a male figure (Big Bang, NCIS, The Walking Dead, Scorpion, NCIS: New Orleans, Blue Bloods, Criminal Minds) or sold on the name recognition of its leading man (The Blacklist).
The SAG wins for Aduba and Tambor, not to mention the ensemble win for the Orange Is the New Black cast, suggest that television is open and accepting of complex LGBT stories. But while Netflix and Amazon's banner series are excellent examples of television moving away from straight white male-centered stories, network shows continue to be averse to making their leads anything but heterosexual. Modern Family (coming in at No. 11) remains the most prominent exception, though its success never did quite result in more LGBT shows breaking out. Series like One Big Happy (produced by Ellen DeGeneres) and Looking were quickly canceled in their first season or two.
It's easy to look at shows like SAG winner Luther or Golden Globe winner Jane the Virgin and conclude that television is a more diverse environment than Hollywood. But while the success of Empire, Shonda Rimes' shows and the buzz around streaming favorites like Sense8, Master of None, and Transparent signals that as Viola Davis put it, "diversity is not a trending topic," this list shows us that it may take a while for broadcast television studio heads and audiences to catch up.