Is The 1975 on Tour? British Band Is About to Drop Its Second Album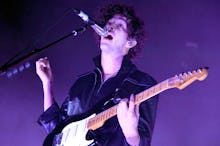 Tim Mosenfelder/Getty Images
British alternative pop-rock band The 1975 will release its highly anticipated second EP I Like It When You Sleep, for You Are so Beautiful Yet so Unaware of It on Feb. 26 before heading out on a six-month world tour kicking off in March in London and hitting several cities across Europe and the United States along the way. 
The tour will commence March 4 at London's O2 Academy Brixton for five consecutive shows before heading to the band's hometown of Manchester. The tour will reach the U.S. April 17 with a performance at California's Coachella music festival followed by shows in more than 20 cities — including Los Angeles, Houston, Philadelphia and Brooklyn, New York. 
Tickets are available on the band's site. Nosebleed seats for The 1975's show at Brooklyn's Barclays Center on May 17 are going for $45 a pop on Ticketmaster.
Read more:
Frontman Matt Healy, 26, included detailed accounts of his experience with fame, cocaine and his mom's depression on the forthcoming album, the Guardian reported. "It veers from the Bowie-meets-Gabriel art-funk of the lead single, 'Love Me,' through 'She Lays Down,' an acoustic ballad about his mother's postnatal depression; to 'Ugh,' a strange splurge of a song that is Healy reflecting on his relationship with cocaine; to 'She's American,' a sharp pop song about being an Englishman desired by American girls," the Guardian's Michael Hann wrote, adding that "it's good."