These Popular Songs About Paris Capture the Spirit of the City of Love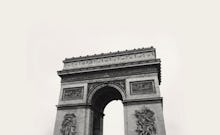 Felipe Dolce/Unsplash
Few cities evoke the level of romanticism that comes to mind whenever Paris is mentioned. It's a city of many names — some call it the City of Light, while the locals often use the term Paname, but perhaps the most well-known name for France's capital is the City of Love. The glittering Seine river that bisects the city, the cobblestoned roads of Montmartre that weave up to Sacré Coeur, the majestic Eiffel Tower, the luxurious boulevard Champs-Élysées and more of the city's iconic landmarks and neighborhoods have all backdropped countless romantic films and have featured prominently in literature throughout the ages. 
"If you are lucky enough to have lived in Paris as a young man, then wherever you go for the rest of your life it stays with you, for Paris is a moveable feast," author Ernest Hemingway wrote in his 1964 memoir, A Moveable Feast. Likewise, British writer T.S. Eliot once pointed out the city's power to stir something within us when he wrote that "the chief danger about Paris is that it is such a strong stimulant." 
Read more:
And German philosopher Friedrich Nietzsche would agree, having once written that an artist "has no home in Europe except in Paris."
Indeed, France, and Paris in particular, has long been a cradle for forward-thinking along with political and artistic revolutions. The movements are rich and varied, and they span centuries —  the Romanesque period, the Renaissance, the Baroque period, Impressionism, Post-Impressionism, Cubism, Surrealism, Abstract Expressionism...  the list is an endless well of creativity and self-expression.
In the spirit of Paris and the city's hold on our hearts, and in a nod to the city's power to foster love and creativity, here's a roundup of some of the best songs about Paris.
Billie Holiday — "April In Paris"
Carla Bruni — "Little French Song"
Joe Dassin — "Les Champs-Elysées"
De Marseille à Paris —Maître Gims
Serge Gainsbourg — "Le Poinçonneur des Lilas"
Phoenix — "1901"
Édith Piaf — "Non, Je Ne Regrette Rien" 
Joni Mitchell — "Free Man In Paris"
Cole Porter — "I Love Paris"
Yael Naim — "Paris"
St. Vincent — "Paris Is Burning"
Jay Z and Kanye West — "Ni**as In Paris"
Magic Man — "Paris"
Camille — "Paris"