The 15 Best Wings Recipes, From Spicy Buffalo to Chipotle, for Your Super Bowl Party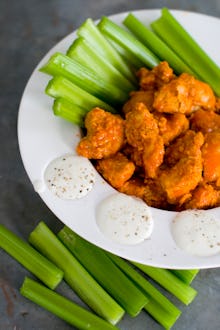 Matthew Mead/AP
What is a Super Bowl party without chicken wings? It's just a bunch of hungry people watching a football game, that's what. Here are some awesome wing recipes to kick off your epic Super Bowl bash.
Read more:
1. Honey Chipotle Crispy Baked Wings
This recipe calls for honey, lime, and chili powder, so these wings have the perfect balance of sweet, sour and spicy. Get the recipe here.
2. Sesame Hoisin Wings
These wings have a sweet glaze and the delicious taste of sesame, garlic and soy sauce. Get the recipe here.  
3. Spicy Baked Buffalo Wings
You can't go wrong with classic Buffalo wings for game day. This recipe calls for baking, not frying, the wings. Get it here.
4. Low Calorie Tangy Wings
If you're trying to eat light on Super Bowl Sunday, this is a great recipe for keeping it low-cal with skinless wings and a tangy sauce. Get it here.
5. Roasted Soy Citrus Wings
This recipe calls for Sriracha and oranges for the glaze, which is a totally amazing combination. Make them here.
6. Jamaican Jerk Wings
The spicy jerk wings are perfect for anyone who loves their wings HOT. Get the full recipe here.
7. Maple Chipotle Wings
These simple maple chipotle wings only have a few ingredients, so they're a snap to make, and the maple syrup makes them sweet and sticky. The full recipe is here. 
8. Fiery Grilled Wings
Making wings on the grill requires some extra effort, and some time spent outside, but it's worth it if you want that crunchy, charred taste. Get this recipe here.
9. Maple Glazed Wasabi Wings
This sweet and spicy recipe calls for wasabi powder and maple syrup, so these wings will definitely pack a punch. And they're topped off with crushed wasabi peas for some extra crunch and spice. Get the recipe here.
10. Vietnamese Style Saucy Wings
This recipe offers tips for making these spicing, Vietnamese-inspired wings on the grill or on the stovetop. The spicy glaze is complimented by a cilantro ranch dressing. Get the full recipe here.
11. Honey Mustard Wings
Honey and mustard are a classic flavor combination that works on everything from salad to sandwiches, so why not on your Super Bowl wings? Get this recipe here.
12. Citrus Fried Wings
This recipe for crispy citrus spiced chicken wings is inspired by Duck à l'Orange, and calls for and orange and tangerine sauce. Get it here.
13. Thai Peanut Wings
Interested in going a little out-of-the-box with your wings this year? Try this Thai-inspired recipe for baked, spicy wings with peanut sauce. Get it here.
14. Crispy Lemon Pepper Wings
These simple wings call for lemon pepper seasoning and olive oil and are baked in the oven instead of fried. Get the full recipe here.
15. Spicy Sriracha Wings
Who doesn't love Sriracha? This recipe pairs the famous hot sauce with buttermilk ranch dressing for dipping. Get it here.