Watch Bernie Sanders Play a Rabbi in a Low-Budget Rom-Com From 1999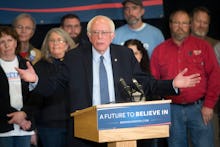 John Minchillo/AP
Democratic presidential candidate Vermont Sen. Bernie Sanders has been called many things since his announcement in April that he would be running for Head of State. Until this week, "actor" was not commonly one of those things.
A viral video of Sanders' cameo in the 1999 romantic comedy My X-Girlfriend's Wedding Reception shows Sanders as Rabbi Manny Shevitz. The Sanders campaign confirmed to CNN that the cameo was actually Sanders, and not a look-alike.
"My name is Rabbi Manny Shevitz," the actor-turned-2016-presidential-candidate says. "And I am very pleased that you invited me to be with you today. I've prepared a few words for this important occasion." 
Speaking at a Jewish Italian wedding, Sanders goes off on a diatribe about the Brooklyn Dodgers and their 1957 move to Los Angeles. Sanders may have actually grown up as a Brooklyn Dodgers fan; he was born in Brooklyn, New York. "Two million dollars here; they spend $12 million there," Sanders lamented. "What's so free about that free agency?"
Read more:
While Sanders was mayor of Burlington, Vermont, from 1981 to 1989, he made another cameo appearance in the 1988 drama-comedy Sweet Hearts Dance. Sanders filmed alongside Academy Award-winner Susan Sarandon, who is campaigning for Sanders, according to Yahoo News.
Sanders appears briefly in the film, handing out Halloween candy to children, after "being accused of being a bit stingy last year," a caption of a video of the scene on YouTube reads.
But Bernie Sanders' talents weren't limited to the big screen. In 2014 his 1987 folk album, We Shall Overcome, was re-released by a small record label in Vermont. The album features Sanders and various artists producing remakes on civil rights-era songs.