Nicki Minaj Reignites Miley Cyrus Feud in "Down in the DM" Remix, Twitter Is Living for It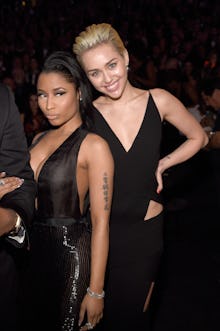 Kevin Mazur/Getty Images
Never one to turn down a battle, Nicki Minaj is getting personal once again, in her remix of Yo Gotti's "Down in the DM." In her remix of the club banger, Minaj recalls the infamous moment at the 2015 MTV Video Music Awards when she called out Miley Cyrus for lambasting her to a New York Times reporter days before the event.
"I said, 'Miley, what's good?'" Minaj raps, restating the famous one-liner from the awards show that lit the internet on fire. "I said could you pay my bills like O'Reilly, 'What's good?'" The full song was released online Thursday. 
Read more:
Immediately after Minaj posted a preview of the remix to Instagram on Wednesday, social media was thrown back into the controversial battle between the two megastars. It didn't appear as though anyone felt bad for Cyrus after Minaj continued the feud in her new release. "Miley stans [fans] want Miley to be the victim so bad," one Twitter user wrote Thursday. "The bitch bit off more than she can chew. Now she knows not to mess w[ith] Nicki Minaj."
How it all began: "What I read sounded very Nicki Minaj, which, if you know Nicki Minaj is not too kind," Cyrus told the Times, after hearing the "Anaconda" rapper publicly acknowledged the VMA's failure to nominate her for the video of the year award. Taylor Swift, whose video was nominated, seemed to think Minaj was calling her out, and the two began a heated exchange on Twitter. 
"It's not very polite," Cyrus continued. "I think there's a way you speak to people with openness and love. You don't have to start this pop star against pop star war. It became Nicki Minaj and Taylor in a fight, so now the story isn't even on what you wanted it to be about. Now you've just given E! News 'Catfight! Taylor and Nicki Go at It.'"
The rest, of course, is history — history that will live on in the form of GIFs and memes forever. 
Fans of Minaj clearly aren't over the feud, either. "Nicki shading Miley in her new verse is still everything," one user wrote:
Listen to Nicki Minaj's preview of Yo Gotti's "Down in the DM" remix below, and the full version of the remix here:
February 4, 2016, 1:21 p.m.: This story has been updated.