These Robot Chefs in China Can Make a Meal in Just 90 Seconds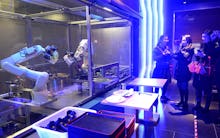 Soon enough, humans will be rendered obsolete when robots come for our jobs, families, partners and everything else that we hold dear.
Until that moment inevitably comes, however, we can still enjoy their company, especially when they're cooking up tasty ramen in 90 seconds flat.
Shanghai Daily reports that a new restaurant in the city's Hongkou District has two very special chefs on staff to help make hungry customers happy: Koya and Kona, two robots that cost about $154,000.
The pair whip up steaming bowls of ramen by boiling together the correct proportions of noodles and broth. After the bots serve them into a waiting bowl, a human server adds some garnish and brings the finished product to restaurant guests. 
Though they can't make the actual noodles, they can perform the technical aspects "with mesmerizing efficiency and no lack of panache," according to Shanghai Daily.
As of now, the robots can only prepare beef ramen — the restaurant, called Toyako, offers three others, including seafood, fried fish and braised pork — but owner Liu Jin is happy with the robots' trick, which is apparently supremely popular with customers.
It's not just Toyako, however. Robots have been masquerading as chefs since 2009, when a noodle shop in Japan opened with its own automated star. Another similar restaurant in China — named after the film Wall-E, no less — opened in 2014.
While the cost for Toyako and Liu is relatively high — Liu said it's the same price as paying two people for six years — the owner believes he'll get his money's worth.
"You don't get any problems with robots. They'll never ask for leave and they won't get sick," he told Shanghai Daily.
Somewhere, a human chef is weeping into a bowl of instant ramen.
h/t Business Insider