Bernie Sanders Raised $5 Million More Than Hillary Clinton in January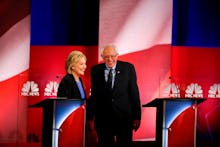 Fueled by grassroots support from small donors, Democratic presidential hopeful Sen. Bernie Sanders (I-Vt.) raised $5 million more than frontrunner Hillary Clinton in January, according to figures released by the two campaigns.
Sanders, whose campaign has tapped into progressive angst over income inequality and corporate influence, raked in $20 million last month, while Clinton raised $15 million.
The Sanders campaign announced its haul for the month on Sunday, one day before the senator fought Clinton to a near-draw in the Iowa caucuses. In a statement, the campaign said that the campaign brought in 770,000 individual contributions, averaging $27 per donation.
"The numbers we've seen since Jan. 1 put our campaign on pace to beat Secretary Clinton's goal of $50 million in the first quarter of 2016," Sanders' campaign manager Jeff Weaver said. "Working Americans chipping in a few dollars each month are not only challenging but beating the greatest fundraising machine ever assembled."
Clinton's campaign manager, Robby Mook, told reporters on Thursday morning that Sanders had outpaced Clinton's financial juggernaut last month.
"I believe he will have the resources to push this campaign well into the spring," Politico quoted Mook as saying. "He outraised us in January, and we've been very candid with our online supporters that Sen. Sanders' online supporters have given more often, a higher proportion of his list contributes."
Hours later, Clinton's campaign released its $15 million figure. Though the campaign didn't provide a figure for its average contribution, a statement said that 95% of donations came in increments of $100 or less.
"We invested early in organizing and that investment has already paid off with a Hillary Clinton victory in Iowa," Mook said. "Now, thanks to the support of more than 670,000 people across the country, we have the resources we need to take the fight to to New Hampshire, Nevada, South Carolina and beyond.  We are also continuing to work on the important goal of strengthening the Democratic Party to help elect Democrats up and down the ballot in November." 
As Mook indicated, the Clinton campaign now expects the Democratic primary campaign to be a much longer slog than many observers had predicted last year. After Sanders' near-upset of Clinton in Iowa on Monday, his campaign raised $3 million in 24 hours, underscoring that Sanders will have the resources to compete with Clinton into the spring contests.
Sanders' campaign has now brought in more than 3.2 million individual contributions — a record for this point in a presidential campaign.