The World Is Asking for a Selena Barbie Doll — With an Online Petition, Of Course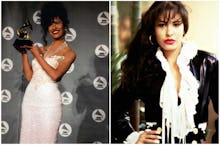 In the wake of Mattel announcing that there will now be curvy Barbies, petite Barbies and tall Barbies — not to mention a doll resembling soccer star Abby Wambach and an Ava DuVernay Barbie with dreads — people are thinking long and hard about what kinds of dolls should come next. Like a Barbie repping women who wear hijabs, or a body-diverse array of Ken dolls.
So it was really only a matter of time until devoted Selena superfans decided to ask that Selena Quintanilla-Pérez, the Tejano superstar, get her very own doll. Five days ago, fans launched a Change.org petition addressed to Mattel, asking the company to create a doll in her likeness.
It currently has more than 2,500 supporters, more than half its goal.
"We want Mattel to create an official Selena doll in her likeness," Remy Ocampo, who started the petition, writes on the page. "There has yet to be any curvy Hispanic Barbie dolls in any Barbie line, and we think Selena is a perfect candidate for that kind of representation. Selena was truly a person to be admired and I think young girls and boys would appreciate having a Selena doll in their collection."
"There has yet to be any curvy Hispanic barbie dolls in any Barbie line, and we think Selena is a perfect candidate for that kind of representation."
Ocampo appears to be right: Even with Mattel's new set of diverse dolls, there is no curvy Hispanic doll in the bunch, making Selena one of the most iconic (and obvious) inspirations for a potential new doll. But Mattel has shown a real embrace of other diverse representations, especially celebrities, in the past. The list includes Jennifer Lopez (who actually played Selena in the iconic 1997 movie) Zendaya, Nicki Minaj and Beyoncé. 
Mattel wouldn't even have to look far to see how Selena would look like as a doll, either. She's actually had dolls in her own likeness manufactured before, starting as early as 1996, to commemorate her career, which ended in 1995 when she was shot and killed by the president of her fan club.
According to Latina, the most popular doll came dressed in one of her most iconic outfits — a sparkly purple jumpsuit — which she wore during her final concert at the Houston Astrodome. Currently, dolls from the line are being sold on eBay, with limited editions going for nearly $400. 
Mattel wouldn't only have help from past likenesses — it would also have a legion of ready-made fans. Over the past few years, Selena's fans have been successful in bringing their favorite pop star back into the forefront of popular culture. 
In 2015, Patty Rodriguez started a petition asking for MAC Cosmetics to release a capsule collection in the singer's honor. That one raked in more than 37,000 signatures and got the attention of the cosmetics company, which promised that a Selena-inspired collection will be coming later in 2016. 
Twenty years after her death, Selena's superfans are powerful, dedicated and nearly unstoppable. If they can manage to bring another kind of curvy Hispanic Barbie doll — with all her curvy glittery clothes to match — to little kids everywhere, they'd be doing their idol proud.
h/t Teen Vogue