Why Leonardo DiCaprio Has Never Won an Oscar — and It's Not His Acting Abilities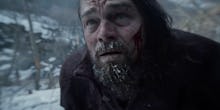 Mic/YouTube
On March 2, 2014, during the 86th Academy Awards, Leonardo DiCaprio sat in the Dolby Theater in Los Angeles awaiting the results for his fourth and fifth Oscar nominations — fourth as an actor for his role as Jordan Belfort in Martin Scorsese's The Wolf of Wall Street, and first as a producer on the same film, which was nominated for best picture. When it came time to present the best actor award, Jennifer Lawrence walked out on stage but announced Dallas Buyer's Club's Matthew McConaughey's name instead. 
Fast-forward to the end of the ceremony, when Will Smith walked out on stage to present the award for best picture and announced 12 Years a Slave. As the films' cast and crew, including the film's director, Steve McQueen, and producer Brad Pitt, walked toward the stage, it was official: DiCaprio's Oscar record was 0 for 5.
Read more
DiCaprio's Oscar snub came on the heels of his win at the 71st Golden Globe Awards two months earlier. During the awards, which have separate film categories for drama and comedy/musical, both McConaughey and DiCaprio won in their respective acting categories. According to the calculations of Flavorwire's Jason Bailey, 90% of Globe winners for best actor do go on to win the Oscar. 
However, the Oscars do not separate by genre, and have historically given preference to dramas because they better align with the notion of prestige films. Whether his roles were dramatic or comedic is beside the point; DiCaprio's losing streak, at least in terms of his acting nominations, has less to do with a vendetta and more to do with the circumstances beyond his actual performances.
66th Academy Awards (March 21, 1994)
At the age of 19, DiCaprio received his first nomination for his supporting role in Lasse Hallström's What's Eating Gilbert Grape. The actor was fresh on the Hollywood scene, and his chances of winning that year were rather low; winners of this category tend to be between 40 and 50 years old. The Oscar went to Tommy Lee Jones, who was 47 years old at the time, for his role inThe Fugitive.
77th Academy Awards (Feb. 7, 2005)
DiCaprio's nomination for Martin Scorsese's The Aviator was significant for many reasons. For one, it was arguably his first leading role as a "serious" actor, post-Titanic. 
It took DiCaprio a while to distance himself from the camp factor — mainly the "I'm the king of the world!" and "My Heart Will Go On" jokes — of James Cameron's ubiquitous 1997 blockbuster. It wasn't until 2002, when DiCaprio appeared in Steven Spielberg's Catch Me If You Can and in Martin Scorsese's Gangs of New York, that his spotlight really began to illuminate. Association with the two directing titans probably didn't hurt, either.
The Aviator's pedigree, DiCaprio's ascension into serious-actor status and the role of playing Howard Hughes (i.e., biopic Oscar bait) were all hallmarks for a Oscar-winning performance, and in any other year, DiCaprio probably would have won. But in the end, there was no stopping Jamie Foxx, whose role as Ray Charles in Taylor Hackford's Ray cleaned up in nearly all the pre-Oscar guild accolades and critic circles — compounded, perhaps, by some spillover sentiment, since the singer had passed away a few months prior to the film's release.
Additionally, Scorsese does not have the best track record when it comes to his Oscar-nominated actors winning (as opposed to say, Woody Allen). Cate Blanchett's supporting role in The Aviator, playing four-time Oscar winning legend, Katharine Hepburn, remains Scorsese's last directed role to win – the fifth out of 18 roles to be nominated, at the time. 
79th Academy Awards (Feb. 25, 2007)
DiCaprio gained pre-Oscar traction two years later for his role in Scorsese's The Departed — a remake of the 2002 Hong Kong film, Infernal Affairs. DiCaprio's role in The Departed was significant because he was appearing in a film that many predicted would finally grant Scorsese his first Oscar for best director after having lost five times for films many critics felt were lesser achievements, like Raging Bull and Goodfellas.
The Departed would eventually go on to win best picture and best director. DiCaprio, on the other hand, wound up with a confounding nomination for his role in Edward Zwick's Blood Diamond, a film that didn't have the same pedigree, critical acclaim or pre-Oscar accolade presence as Scorsese's film.
It should be noted that both of DiCaprio's roles were nominated for best leading actor in a drama at the 64th Golden Globes. On the other hand, an actor cannot be nominated for more than one role in any given acting category at the Oscars. Had DiCaprio been nominated for the correct role, it would have been moot. Much like Jamie Foxx during 2004 to 2005 awards season, Forrest Whitaker finished his 2006 to 2007 victory lap by winning the Oscar for his role as Ugandan dictator Idi Amin in Kevin Macdonald's The Last King of Scotland.
86th Academy Awards (March 2, 2014)
The Academy would wait 7 years before nominating DiCaprio once more. Many pundits and critics had anticipated a sooner nomination in 2008, for his role as Frank Wheeler in Sam Mandes' Revolutionary Road. The film also starred Kate Winslet as his wife, April Wheeler, and the film happened to be the two actors' first on-screen reunion since Titanic. However, the relatively lukewarm reception from critics had marred the film's prospects, shattering any hope, however quixotic, of not only them finally winning their respective Oscars, but both actors winning them on the same night. With a 0 for 5 losing streak of her own, Winslet would eventually go on to win in 2009 on her sixth nomination, for her role as Hanna Schmitz in Stephen Daldry's The Reader.
In 2013, some pundits humored the thought of DiCaprio gaining awards traction for his supporting role in Django Unchained, but the campaign for his nomination was ultimately overshadowed by co-star Christoph Waltz. Already a winner for 2010's Inglourious Basterds, Waltz would go on to win his second Oscar — both wins stemming from Quentin Tarantino films.
DiCaprio's Oscar nomination for The Wolf of Wall Street marked the third time he was nominated for a Scorsese-directed film and the fifth overall collaboration with the director. The film, about a stockbroker who struck rich after manipulating the stock market and was eventually convicted for money laundering, was released at a particularly awkward time, accused of being morally reprehensible so soon after the Occupy Wall Street protests.
One of the more common theories floating around the internet after his loss included the "Pitt-Hanks Continuum. Vanity Fair's James S. Murphy postulated that the reason DiCaprio lost this nomination, as well as all his previous ones, was due to DiCaprio embodying a "cool guy" persona, much like Brad Pitt, who remains Oscarless for an acting role. Murphy further explained that Tom Hanks, on the other hand, "invites you to share his position" and whose roles "communicate exactly what it would be like to the character he is playing."
DiCaprio's cool guy demeanor may or may not have affected his case, but Murphy's theory overlooks the trajectory of McConaughey's award season narrative. Similar to DiCaprio's nomination for The Aviator in 2005:
1. McConaughey's role in Dallas Buyers Club was his first role as a serious actor, after years of starring in lowbrow rom-coms like Failure to Launch and Fool's Gold.
2. He lost a bunch of weight, contributing to his method acting, deglamorizing and playing against his type.
3. He played Ron Woodroof, giving him the biopic factor.
4. The film addressed the stigma of HIV/AIDS –  what the Academy would consider an important subject. 
Also, never estimate power of charm; McConaughey's "alright, alright, alright" was a fixture throughout the award season.
88th Academy Awards (Feb. 28th, 2016)
DiCaprio's fifth acting nomination might finally do the trick.
2. DiCaprio is nominated for a role in The Revenant, which is the most-nominated film of the year, including best picture and best director. Furthermore, the film is directed by Alejandro González Iñárritu, the reigning best picture and best director winner for 2015's Birdman.
3. Much has been made about the arduous filming conditions, including DiCaprio having to sleep in an animal carcass, contributing to the method factor. And lest we forget the bear.