Is Rihanna Going to Tour With Drake? 'Anti' Singer Teases Fans on 'Ellen'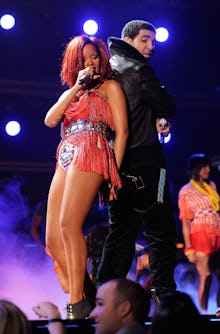 Kevin Mazur/Getty Images
Pop superstar Rihanna appeared on The Ellen DeGeneres Show on Thursday to discuss her relationship status, where she lives, her intense karaoke skills and how she "would love" to go on a tour with OVO rapper Drake. 
"But you're touring, and Drake is on one of these songs," Ellen said, referencing the singer's first single from Anti, "Work," with the Canadian rapper. "So if he's touring with you..."
"He's not touring with me," Rihanna replied to the talk show host. "He totally should. Maybe next time. I would love to go on tour with Drake, actually yes, that has to happen."
Read more:
Rihanna also answered questions regarding her love life. "I'm single right now and it's not that I'm like, 'Oh, pro-single, yes, I hate men,'" the 27-year old artist said. "I just think that I have just so much on my plate that I can't even find the time to entertain a steady relationship or anything serious."
Rihanna also appeared alongside actor George Clooney for a lively game of "Never Have I Ever." The Anti singer teased Clooney, who had said he had seen a rapper naked before.
"Stop lying, stop lying!" Rihanna told Clooney, after he changed his sign to "I Have Never."
Rihanna's Anti World Tour, will begin Feb. 26 in San Diego. The Barbadian singer will travel across North America and Europe for 67 shows, with the final performance ending in Switzerland.