Is Nicki Minaj Coming Out With a New Album? What We Know About Her Plans for New Music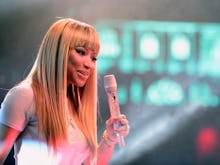 Bryan Steffy/Getty Images
Fans of Nicki Minaj (also known as Barbies) are anxiously awaiting any news of the singer's next album — so the question is, when will Minaj release new music to placate her waiting public?
Minaj hasn't released a new album since 2014's The Pinkprint, but she's been far from absent from the public eye. Minaj's international tour for The Pinkprint kicked off in March, and Minaj performed throughout Europe and North America. Her website currently lists no upcoming events.
Read more:
Minaj has also been busy developing a sitcom based on her life and maybe getting engaged to her boyfriend, rapper Meek Mill. She's also been spreading the feminist gospel, speaking up for reproductive rights and against body-shaming.
Minaj's third studio album, The Pinkprint, which Minaj co-executive-produced, debuted at number No. 2 on the Billboard 200. "Anaconda," the second single released off the album, is Minaj's highest-charting single ever, and the music video for the song has more than 550 million views on YouTube. The Pinkprint featured collaborations with Beyoncé, Drake, Lil Wayne, Meek Mill and Ariana Grande (among other artists), so it's safe to assume that any upcoming albums Minaj might be planning would be similarly star-studded.
Rumors that Minaj has a new album in the works have been swirling, but so far there's no confirmation. On Thursday, however, Minaj was back in the spotlight when she released a remix of Yo Gotti's "Down in the DM" that references her feud with Miley Cyrus. It may not be a new album, but it's definitely getting her fans excited.