When Will Netflix Have Season 2 of 'Jane the Virgin'?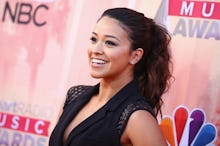 John Salangsang/AP
So you just finished binging the first season of CW's award-winning comedy-drama Jane the Virgin on Netflix and are dying to binge the second season like now — but you'll have to wait until fall if Netflix and CW follow the October release contract, according to reports. 
Under Netflix and CW's contract, a Netflix fan site reported, the streaming service renews CW content every October. Furthermore, being that Jane the Virgin season one hit Netflix in October, it would make sense that season two would be released the following October. Yes, that's eight whole months from now.
Read more:
What's more, there are rumors that Netflix's contract with CW could end, resulting in Netflix ditching the network's content, which would deny its millions of users the life-changing experience that is season two of Jane the Virgin. God forbid. 
If you're more loyal to Jane the Virgin than Netflix, or just really desperate to watch season two right this second, CW is already streaming all the episodes so far on Hulu. 
The quirky show starring actress Gina Rodriguez got little attention when it premiered on CW in 2014 but gained traction when Rodriguez won a Golden Globe for the role and gave a killer speech. "This award is so much more than myself," she said, according to the Huffington Post. "It represents a culture that wants to see themselves as heroes."
Feb. 4, 2016, 3:40 p.m. Eastern: This article has been updated.
Correction: Feb. 4, 2016