A Man Sucked Out of a Plane Midair Was Likely a Suicide Bomber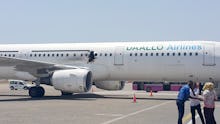 Authorities are saying that a man who died after being sucked out of a plane during an explosion on a Somali commercial flight, was likely a suicide bomber responsible for the blast, an unnamed Western diplomat told the Wall Street Journal.
There were no other fatalities, but two passengers were injured.
Investigators believe the man was able to smuggle explosive material on the plane by boarding the flight on a wheelchair, enabling a less rigorous security screening.
"An individual got onto the plane in a wheelchair and is suspected of being the suicide bomber," the diplomat told the Journal. 
At this point, no group has claimed responsibility for the attack, but U.S. officials have pointed to al-Shabaab as a likely source, the Independent reports.
The plane was approximately 20 miles from Mogadishu and en route to Djibouti when the explosive went off. The suspect's body was found near Bal'ad district, northeast of the capital. 
Pilot Vladimir Vodopivec, told Serbian publication Blic, he believed the blast was indeed caused by a bomb, according to the Associated Press. "Luckily, the flight controls were not damaged so I could return and land at the airport," he said. "Something like this has never happened in my flight career. We lost pressure in the cabin. Thank God it ended well."
Get the five stories that will challenge you to rethink the world by signing up for MicCheck Daily.