6 Music Videos That Will Make You Cry Because of Their Powerful Messages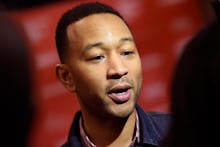 Chris Pizzello/AP
There's nothing like a sad music video to move the heart when you're in need of a good, long, crying session. Heartfelt music videos have a unique ability to move us to wailing tears in the span of a few minutes — sometimes within a few seconds. 
Whether they emulate a depressing kind of sadness associated with heartbreak and death or a heartwarming sadness like self-love and embracing diversity, here are six music videos that will undoubtedly make you cry right now. 
Read more:
"River" by Leon Bridges
Leon Bridges' powerful music video for his soulful ballad "River" provides a raw, close reflection on the regular violence that occurs in Baltimore with real footage playing on a television in the corner of a motel while he strums his guitar and fictional yet humanizing depictions of families that live surrounded by poverty and violence.
"You and I" by John Legend
John Legend made a strong statement about female diversity and body positivity with a touching music video for this 2015 ballad. Females of all different ages, nationalities and gender identities with physical characteristics including visible mental disorders, scars and other traits that don't necessarily fit in society's status quo, face themselves in the mirror both critically and lovingly — a metaphor for the pressure women feel they need to live up to unrealistic beauty standards.
Try not to cry throughout this entire video. We dare you.
"Hurt" by Johnny Cash
Widely known as one of the saddest music videos of all time, Johnny Cash covered the Nine Inch Nails song "Hurt" for a 2003 music video shot at his home and museum, the House of Cash, that reflected on the fleeting nature of life and the end of an era as Cash symbolically closed his piano in one of the video's many emotional shots. He died seven months later.  
"I Know You Care" by Ellie Goulding
Ellie Goulding's 2012 heartbreaking ballad was accompanied by a heartbreaking music video featuring scenes from the drama Now Is Good, starring Dakota Fanning as a terminally ill teenager who falls in love with a boy played by Jeremy Irvine.
"Shake Me Down" by Cage the Elephant 
The 2011 music video evokes sad nostalgia as a middle-aged man's life flashes before his eyes in short, sentimental segments like playing football with his dad in the backyard. But the real tearjerker comes in the last few seconds when... well, we won't spoil it. 
"All I Need" by Radiohead
The 2008 music video was created for MTV's Exit campaign to end exploitation and child trafficking. The video uses the blunt imagery of a split screen to highlight the stark differences between a privileged Caucasian child's everyday life in the East and that of a victim of child exploitation in the West.