When Will Netflix Have Season 6 of 'The Walking Dead'?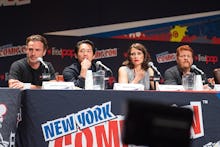 Michael Stewart/Getty Images
Now that the first half of the sixth season of AMC's The Walking Dead  is over and the second half is a little over a week from commencing, fans may be wondering when it'll begin to stream on Netflix. Unfortunately, that fateful day has yet to be announced, so fans waiting to see how Rick Grimes and others survive will have to wait. 
Based on the show's history, the sixth season is estimated to be available after it wraps up, so it'll most likely be during September, or about two weeks before the seventh season's premiere on AMC, Netflix Life reported. In 2015, the fifth season of The Walking Dead landed on Netflix on Sept. 27, right before season six's Oct. 11 premiere, International Business Times reported.
Read more:
As of November, neither Netflix in Australia or the United Kingdom had any episodes from the series, according to Netflix Update.
The midseason finale of the sixth season premiered on Nov. 30 and left off with protagonist Rick Grimes and his crew in the middle of a zombie escape; the second half will pick up there. It'll make for a romantic Valentine's Day by premiering on Feb. 14. Fans will see new characters such as villain Negan, played by Jeffrey Dean Morgan, and Paul Monroe, played by Tom Payne. Fans can also expect to explore the characters' "own inner demons," executive producer Gale Anne Hurd said in a YouTube teaser.
Below is a teaser for the the next half of the sixth season of The Walking Dead: