Who Is 'The Departed' Based on? Jack Nicholson's Character Inspired by Real-Life Mob Boss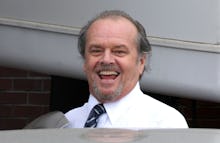 James Devaney/Getty Images
With the 2015 release of Black Mass, audiences got a look at Johnny Deep take on notorious mob boss James "Whitey" Bulger. The story follows Bulger's criminal career and time as an FBI informant in order to eliminate a rival family invading on his turf. It's a strong performance by Depp as a gritty and ruthless Bulger, though it wasn't the first time the now-imprisoned mobster was portrayed in a film. 
While not as direct an inspiration as Black Mass, Martin Scorsese's 2007 Oscar-winner, The Departed, was heavily influenced by Bulger's extensive criminal history. Jack Nicholson's character in the film, Frank Costello, bears some notable resemblances to Whitey.
Read more:
The biggest similarity is that Costello, like Bulger, is a Mafia boss in Boston intent on controlling as much turf as possible. According to Blast magazine, Costello, like Bulger, also was known to directly go into stores to collect money and personally deal with those who couldn't fork over cash.
"Costello also had his nose in business, often walking into stores in the movie and demanding money from the owner, just as Bulger used to do," Brittney McNamara wrote for Blast. "Costello also hinted at his owning a movie theater in one scene. Costello and Bulger were also not afraid to get their hands dirty. Both are portrayed as first-hand killers, and both reputedly killed women."
Additionally, both Bulger and Costello had a cozy relationship with law enforcement. In the case of Costello, it was through placing a Mob informant as part of the local law enforcement, Colin Sullivan (Matt Damon). In the film, the police have put their own informant into the Mafia in Billy (Leonardo DiCaprio), which leads to an intense game of cat-and-mouse between the two informants and their bosses. 
For Bulger, he had former FBI agent John Connolly. According to CBS News, Connolly acted as Bulger's FBI handler and repeatedly tipped Bulger's mob about informants in their ranks, a charge for which he completed 10 years in prison. 
"For John Connolly, Bulger and [Bulger gang member Stephen] Flemmi represented a lesser evil: the chief priority for the F.B.I. was to eradicate the Italian Mafia, and, Connolly claimed, his informants were indispensable in that effort," Patrick Radden Keefe wrote for the New Yorker. 
While there are similarities between the two, it's still not a straight interpretation in the same light as Black Mass. Scorsese's film was actually a remake of a 2002 Hong Kong film, Internal Affairs, which follows the same premise, with informants on the sides of the mob and the law. It's a concept that, thanks in part to the popularity of The Departed, has led to several, similar takes in film from various countries. 
"The Departed isn't its only remake, either; filmmakers in South Korea and Japan and India were clearly inspired, too," Tom Breihan wrote for "The Concourse," a sub-blog of Deadspin. "For whatever reason, the movie's central idea — a deeply implausible story about an undercover cop embedded within the mob and an undercover mob functionary embedded within the police, playing cat-and-mouse with each other — has the sort of resonance that crosses cultural barriers. It's hard to imagine it happening anywhere, but people are still imagining it happening everywhere." 
Evidently, the only place such a scenario is possible was in Boston, before Bulger went to prison. The back and forth between the FBI — and some of its corrupt members — Whitey and his gang left the city in a perpetual state of confusion. Though Black Mass and The Departed successfully depict crimes at the scale of Bulger, it's still just a film. Whitey's reign was longer, with lasting, real effects.