Future's New Album 'Evol' Drops Friday: Here's the Track List and Where to Preorder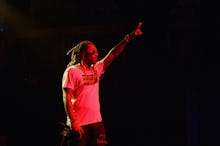 Andrew Toth/Getty Images
After DJ Khaled announced that Atlanta rapper Future would be releasing a new album, the "March Madness" artist unveiled his forthcoming album's title, Evol, along with the 11-song track list. Evol is available for preorder on iTunes, with the full album slated for release on Friday.
The album will debut on DJ Khaled's new Beats 1 show, We the Best Radio, according to the DJ. "We the Best Radio and TV debuting this Friday at 8 p.m. Eastern/5 p.m. Pacific! World-premiering the new Future album this Friday," DJ Khaled wrote on Instagram Monday.
Read more:
Track list: Fans should expect the similar sound that pushed Future to the spotlight in 2015, according to iTunes. "The Atlanta rapper's inspirations haven't changed — he's still reveling in champagne baths, sexual conquest and the spoils of fame — but he leans forward with forceful energy on highlights like 'Maybach' and 'Lie to Me,'" the description read. 
1. "Ain't No Time"
Future dropped "Fly Shit Only," one of the tracks slated to appear on Evol, on New Zealand DJ Zane Lowe's Beats 1 Radio show Thursday, Pitchfork reported.
Evol will be the follow-up to Purple Reign, the mixtape Future released in January. Future had a string of successes in 2015 with mixtapes Beast Mode, 56 Nights and Dirty Sprite 2. 
According to Pitchfork, the Atlanta rapper is gearing up for the Purple Reign tour with Ty Dolla Sign that starts Feb. 17.