'Zoolander 2' Release: Here Are the Returning Actors, Cameos and Plot Details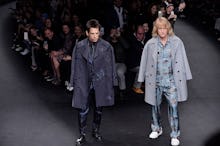 Catwalking/Getty Images
The trailer for Zoolander 2, the follow-up to the popular 2001 comedy, is slated for release on Feb. 12. The film will see actors Ben Stiller and Owen Wilson return as lead male models Derek Zoolander and Hansel, while Will Ferrell steps back into his role as the villainous Jacobim Mugatu. The familiar cast will be joined by actresses Penélope Cruz, Kristin Wiig and Olivia Munn. Yet the fun doesn't stop there — the movie is packed to the brim with cameos.
The additions to Zoolander 2 are notable and include stars and big-time musicians such as Billy Zane, Fred Armisen, Justin Bieber, Kyle Mooney, Kim Kardashian West and Ariana Grande. For a roundup of promotional videos and features, quizzes and other Zoolander-themed content, head to the film's dedicated website, the tagline of which reads, "the world of Derek for the tiny people that live inside the computers."
Read more:
As for the plot, "It's 10 years later and most of it is set in Europe," Stiller told Empire. Stiller, the film's director, teamed up with Justin Theroux, Nicholas Stoller, John Hamburg and Drake Sather to write the script. 
"I don't want to give away too much, but it's basically Derek and Hansel 10 years later — though the last movie ended on a happy note, a lot of things have happened in the meantime," Stiller added in the interview with Empire. "Their lives have changed, and they're not really relevant anymore. It's a new world for them."
Here's the trailer for Zoolander 2: