5 Music Videos From the '80s That Prove It Was the Era of Uncomfortable Feels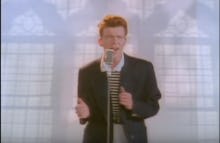 Mic/YouTube
The concept of "having all the feels" is one typically associated with the internet age, and certainly, 2014 to 2016 has been a feeling-heavy stretch. But it's got nothing on the 1980s, in which music video technology aligned perfectly with an emotional moment in songwriting. As the following five videos demonstrate, artists in the '80s had few qualms about baring their souls and voicing their most embarrassing, lovelorn thoughts in front of the entire world. 
Read more:
Here are the stalker-like impulses, the yearn to burn, unshakeable lovers and the sadly spurned. Cringe along as these '80s greats way overshare.
1. "Never Gonna Give You Up" by Rick Astley (1987)
It's a video so fantastic, it spawned its own practical joke. In it, Rick Astley proclaims his undying love for a woman who, he says, feels the same way too. And always has, throughout the many years they've known one another. Sure, we don't get the woman's perspective on the matter, but it seems pretty clear that irrelevant. The matter has been decided. By Astley. He's sticking around, will always be with her, will not be gotten rid of. 
"Never gonna give you up/ never gonna let you down/ never gonna run around and desert you," he sings. "Never gonna make you cry/ never gonna say goodbye/ never gonna tell a lie and hurt you."
So, that's cool. And imposing. But the excellent dance moves, casual parcour, incongruous church-like settings and Astley's suprisingly robust voice mitigate the imposition, to a degree, and definitely make "Never Gonna Give You Up" a classic.
2. "Hello" by Lionel Richie (1984)
Here is Lionel Richie, professor of romance, lusting after his student who — by the way — is blind. Just like love. They don't talk much; he just creeps up behind her in different settings, coming close enough to touch her but always staying his hand. Once he calls her, but when she picks up the phone, he's unable to say a word and just stays silently on the line. (Which, in real life, would mean he was breathing into the receiver for some time, a classic stalker move.) 
"I've been alone with you inside my mind," he sings, "and in my dreams, I've kissed your lips a thousand times/ I sometimes see you pass outside my door/ Hello, is it me you're looking for?"
Based on their lack of meaningful interaction, the audience is led to believe that the answer to his question is no — Richie will pine away in vain forever. Not so. In the end, the object of Richie's desires reveals her true feelings by revealing a perfect sculpture of Richie's head. Which is sweet?
3. "All Cried Out" by Lisa Lisa & Cult Jam with Full Force (1986)
This is a visual smorgasbord. In the video for "All Cried Out," we watch a helium-voiced Paula Abdul vent her break-up rage in a pink satin dream world. Sporting a pastel bow roughly the same size as her head, Abdul spurns a Fabio-esque lover who apparently wronged her. His side of the story is voiced by Full Force (above, left), whose outfit leaves nothing to be desired, is in fact perfect. Undershirt + khaki blazer + large, sparkly musical note broach = instant fashion icon. 
"All Cried Out" has everything. Abdul staring sadly out a window as rain falls outside. Happy strolls through fields of wheat. A wonderful and innovative collection of hats and headscarves. Enormous, crispy hairdos. And all of the feelings: anger, remorse, sorrow, bliss and arson, which isn't an emotion but sort of feels like one in this video.
"Set this place on fire 'cause I'm tired of your lies," Abdul sings.
"Don't you know the heart will cause an inferno/ Romance up in flames, why should I take the blame?" 
4. "Total Eclipse of the Heart" by Bonnie Tyler (1983)
The No. 1 karaoke hit of all time (or, if it isn't, it should be) and a masterful blend of cinematography and too many feelings. So let's instead talk about the visuals. An empty manor in moonlight, windows draped in billowing gauze, a lone child in a winged throne who offers Bonnie Tyler a dove, random shots in an empty chapel, a fencing match, leather-clad dancers, linebackers tromping through the halls, tumbling men with rippling abs, a feast of angry fellows smashing stemware, a choir of laser-eyed boys and smoke, so much smoke. But when it comes to intense emotion, "Total Eclipse of the Heart" takes the cake.
"Once upon a time," Tyler sings. "I was falling in love/ But now I'm only falling apart/ There's nothing I can do/ A total eclipse of the heart."
5. "Self Control" by Laura Branigan (1984)
As in, something Laura Branigan lacks completely. She's not afraid to admit it, either. Or to demonstrate through song/video. "Self Control" is a revealing montage: a haphazard bedroom/sex den. A town made of cardboard and tarps. A hallway made of hands. A story of group sex as told through dance. A mysterious masked man around whom Branigan loses all control and who, with the help of his spandexed minions, infiltrates her apartment and comes at her bare-chested and red-gloved. He has his way with her as the dance army looks on; she seems to really enjoy it, and is disappointed when he vanishes through a glowing window without a word of goodbye. Thus, this verse of uncomfortable truth:
"You take my self, you take my self control/ You got me livin' only for the night/ Before the morning comes, the story's told/ You take my self, you take my self-control."
Another night, another one-night stand with another anonymous man. The party lifestyle leaves her feeling hollow. Or so the video suggests. It's hard to see the subtext through all the masks.