Who Is Ed Skrein? Meet the 'Deadpool' Star You'll Definitely Want to Know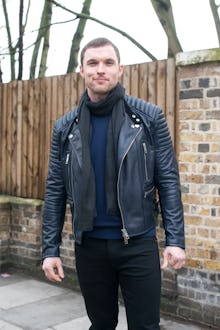 Kirstin Sinclair/Getty Images
American audiences are about to get an eyeful of Ed Skrein, the British actor and rapper who will appear in the upcoming Marvel superhero movie Deadpool, playing Ajax, the villain to Ryan Reynolds' titular hero. So who exactly is Skrein and where did he come from?
Read more:
Some audiences may already be familiar with Skrein from his role as sellsword Daario Naharis on HBO's Game of Thrones. Skrein played the character for one season before being replaced by Michiel Huisman. Skrein also starred in the 2015 action film The Transporter Refueled. 
But Skrein isn't just an actor. In 2007 he released a hip-hop album titled The Eat Up. Skrein is also dad to son Marley, whom he is raising in London with his partner. "Every moment I'm not working I dedicate to my son and family," Skrein told Motherland in 2014. "I spend my weeks pretending to do cool shit I never do in real life and spend my weekends sitting in playgrounds, watching kids DVDs, playing cars and meeting up with other mates with kids. I love it."
Deadpool will hit theaters Feb. 12. Skrein and Reynolds stars alongside Morena Baccarin, T.J. Miller, Gina Carano and Leslie Uggams.