5 years ago, Prince tapped King as R&B's future. Their album proves he was onto something.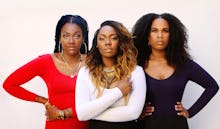 Five years ago, R&B believed it had found its future in three songs. They came from King, a Los Angeles-based trio of two sisters Amber and Paris Strother and Anita Bias. Those songs made up an EP titled The Story, brimming with lush, dream-laden R&B. 
It channeled the genre's past, blending the smoothness of Sade and uplifting messages of a Stevie Wonder with distinctly modern sounds and production. Those dreamscapes won them a clique of admirers from music's elite, and their popularity curiously grew in a grass roots fashion from the top down, like an upside-down garden.
Chief among their champions was Prince, who found the group on the internet and invited them to open for him at an L.A. concert — though Questlove, Erykah Badu and Phonte all helped spread the love. King's track "Hey" became the beat for Kendrick Lamar's "Chapter 6." 
However, as suddenly as the music flooded the space, it stopped. King went underground to record their new album. Years passed. Stars rose and fell. Friday, King finally emerged from their studio with a record. The album's title makes a simple statement: We Are King. 
Within seconds of pressing play, listeners will understand what that means. Having written, performed, recorded and produced essentially the entirety of the record themselves (every note save the horns and guitar), King is in total control of their sound. It's extraordinarily regal.
The songs flow together like a single, sonic tapestry, each track's colors bleeding into the others like a subtle tie-dye. Nothing about their music is aggressively psychedelic, but the cosmic vibes come through with a sense of precision and poise. Five years of work will do that.
"We really wanted to spend the time to make sure we had the album exactly where we wanted it to be," Paris said of the wait during a visit to Mic's Manhattan office. "It's the album we always wanted to make, and the album we've always wanted to hear."
The album includes the three songs that appeared on their first EP — "Hey," "Supernatural" and "The Story" — but as new extended versions with quietly swelling, meditative intros and outros. That was always a part of King's plan. They serve as the album's "foundation," as Paris described it, from which all the rest of the album's sounds and themes stem. Those themes range from self-love to creative exploration to the pursuit of the real in a world filled with fair weather love.
In a sense, the five-year wait compliments the group's unique position and mission in the music industry. Ever since the band adopted their name, the group has remained decidedly self-reliant.
"King was the first and only name we came up with," Bias told Mic. "Over time, it just kind of made sense because we were doing all the songwriting, making all the choices. Whatever we wanted to do, how we wanted to put things out. The decision was ultimately ours. We were the rulers of our own kingdom. So we have King."
In this they've followed the advice and example of Prince, who told them when he flew the band out to one of his shows to meet "not to change a single thing," as Paris narrated. 
That's not to say labels haven't tried.
The girls described going into several meetings and listening to executives praise their music lavishly, only to turn around and suggest they get in the studio with their hottest producers to cut a hit record. It's not something King is ruling out for their future, Bias explained. "But for this record, we felt it was important we keep it close to home and make that statement," she said.
This kind of independent, singular vision puts King in the company of great R&B innovators Frank Ocean, Lauryn Hill and D'Angelo, all of whom have turned their backs on the pop contest in order to find something more honest and lasting. 
We Are King doesn't have the explicitly political bent of the latter two artists' recent work. However, it still does feel like an answer to the challenge Questlove put out to the hip-hop and soul community at the end of December 2014, asking for healing music. 
"I'm not saying every song gotta be 'Fight The Power,' but in times like these we need to be more community minded," the artist wrote on Instagram. "I mean real stories. Real narratives. Songs with spirit in them. Songs with solutions. Songs with questions."
To hear the girls of King, they kept this sense of community in mind above all else while recording the album's effortlessly serene songs.
"I just feel like a lot of our intention was to make music that was at no one's expense," Amber said. "I feel like a lot of the time with popular music comes with a lot of assumptions that you'll have to follow a certain trend. It's: 'Look this way, think this way, dress this way.' You know, you don't have to be rich to enjoy us. You don't have to be in love to love yourself. Those are the things we want to get across."