8 Music Videos That Stand As Testament to the Amorphous Splendor That Was 90s Pop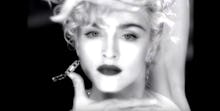 Mic/YouTube
If the 1980s were the decade in which musicians got real about their abundance of awkward feelings, the 1990s were the decade in which musicians got real about synchronized, slithery gyration. Pop music rode in on a wave of Madonna, reaching its full potential through song, dance, an excess of fabric and newly introduced, clumsily applied digital technologies. What a time to be alive.
Read more:
Here are eight classic '90s music videos that make us nostalgic for a simpler time, when all one needed to launch a staggering career was the ability to wave one's hands in front of one's face with pizazz and the ability to sync one's wiggling well with two-to-four bandmates.  Those were the days.
"Vogue" by Madonna (1990)
Madonna, really setting the tone for a decade of music videos. "I know a place where you can get away," Madonna sings, "It's called a dance floor, and here's what it's for": forgetting your cares and expressing yourself. Madonna shows us how to move with the music by striking a fluid series of poses, as if on the cover of a magazine. It's still immediately recognizable, over two decades later.
"The Sign" by Ace of Base (1992)
And then we came to this strange and wonderful music video, which may or may not have been influenced by Madonna's hand-heavy voguing. "The Sign" is a parade of probable symbols that are mostly indecipherable. Is the sign an ankhs? Very much maybe, but perhaps we're not meant to understand where the singing Swedes are going with all of this. Maybe we just appreciate "The Sign" for what it is: music video gold. 
To the bountiful table that is '90s pop they bring winning turtlenecks, assassin-appropriate leather vests, graceful hand-dance moves both sweeping and face-framing, a few voyeuristic moments, dizzying camera angles and a whole lot of gyrating. Enjoy.
"Waterfalls" by TLC (1994)
Some really important but tough life lessons and some *very good* technological effects. Remember that moment when Left Eye, Chilli and T-Boz became water and danced under a waterfall? What is more impressive than that? In the scope of music videos in 1994, few things. TLC coaches warnings about risky behavior — getting involved with gangs, having unprotected sex — in earworm melodies and flowing, '90s-perfect pants.
"Wannabe" by the Spice Girls (1996)
In the video for their first smash hit, "Wannabe," Emma "Baby" Bunton, Geri "Ginger" Halliwell, Melanie "Sporty" Chisholm, Victoria "Posh" Beckham and Melanie "Scary" Brown storm London's St. Pancras Hotel to harass its upscale clientele (and, in Baby Spice's case, the homeless couple huddled outside). They dance on tables, staircases and in alcoves. They disrupt a dinner with some casual gymnastics and invade happy hour, grabbing the drinks right out of patrons' hands. Their youthful spirit seems to enliven the stuffy guests and staff, allowing them to make a quick getaway. GIRL POWER!!!
"All I Have to Give" by the Backstreet Boys (1996)
Check out the razor-sharp part in Nick Carter's blonde page boy. It's hair so blindingly brilliant, it almost distracts one from the larger questions: What in the what is going on in this video? Who picks out A.J.'s outfits and what is the method behind that madness? Probably best not to think too hard about it — just enjoy watching five white zoot suits move as one against a billowing red satin background. Let it wash over you like so many silky, harmonized voices.
"Honey" by Mariah Carey (1997)
Isn't it nice when a music video tells a story? In this one, secret agent Mariah Carey has been taken hostage by a confederacy of villains called D.U.N.C.E. Confronted with her creepy, would-be killers, she insults their hair, their hygiene and ultimately knocks them out with her feminine wiles. There's a high-speed jet-ski chase, a dance sequence with sailors on the deck of a ship, a lot of frolicking in the waves and ultimately, a love connection. Her rescuer, a fellow secret agent, appears on the beach, sweeps her off her feet and carries her into the sunset while a small dog yips at their heels. "Misson: ACCOMPLISHED."
"Barbie Girl" by Aqua (1997)
"Life in plastic, it's fantastic," Lene Nystrøm of Danish band Aqua sings in the 1997 hit, "Barbie Girl." The song parodies Barbie dolls as an idea/obsession, casting Nystrøm as an atypically brunette Barbie and Aqua vocalist René Dif as her atypically bald Ken. Barbie struts around her dream house doing Barbie things — reading a sea horse coloring book while sitting under a hair dryer — as lecherous Ken grows impatient in his quest to get her to party. The sarcastic overtone and the creepy sexual undertone — "You can touch / you can play / If you say / I'm always yours" — lampoon the woman-as-sex-object message associated with the doll, and the video prompts one to consider what a Barbie world might look like if a Barbie world were populated by rave kids.
"Say My Name" by Destiny's Child (1999/2000)
Beyonce's dancing has really improved since her Destiny's Child days. "Say My Name" appeared on the girl band's sophomore album, Writing's on the Wall and features Beyonce Knowles, Kelly Rowland, Michelle Williams and short-lived DC-member, Farrah Franklin. The latter two women replaced LeToya Luckett and LaTavia Roberson, who quit the band in 2000, after Writing's on the Wall had been recorded but before the video had been released. 
So, "Say My Name" is a song of the '90s; the video is a creation of 2000 and a bridge into the TLR era. The children of destiny strike poses in monochrome rooms, pausing in awkward, not-quite-frozen frames (hints of "Vogue," perhaps?) with the cheating male character at whom their song is aimed. The furniture and the artists themselves rotate from room to room as if on a conveyor belt. In the future, this might be what IKEA is like.