Hillary Clinton Attacks Bernie Sanders on One of His Major Selling Points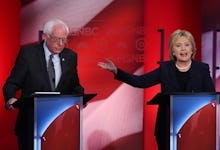 Formally launching his Democratic presidential bid in May 2015, Sen. Bernie Sanders (I-Vt.) promised voters a clean break from the mudslinging and character attacks that define modern campaigns.
"As someone who has never run a negative political ad in his life, my campaign will be driven by issues and serious debate; not political gossip, not reckless personal attacks or character assassination," Sanders said, speaking on the shore of Vermont's scenic Lake Champlain. 
"This is what I believe the American people want and deserve. I hope other candidates agree, and I hope the media allows that to happen," he continued. "Politics in a democratic society should not be treated like a baseball game, a game show or a soap opera. The times are too serious for that."
An "artful smear": But in the Democrats' fifth presidential debate on Thursday night, frontrunner Hillary Clinton accused Sanders of resorting to the same dirty tactics he'd once decried.
"Sen. Sanders says he wants to run a positive campaign. I've tried to keep my disagreements over issues, as it should be," Clinton said. "Time and time again, by insinuation, there is this attack that he is putting forth, which really comes down to, you know, anybody who ever took donations or speaking fees from any interest group has to be bought."
Clinton was referring to Sanders' sharp criticisms of her Wall Street fundraising and her acceptance of hefty speaking fees from financial industry firms following her State Department tenure.
"I have stood up and I have represented my constituents to the best of my abilities, and I'm very proud of that," Clinton went on. "I think it's time to end the artful smear that you and your campaign have been carrying out in recent weeks and let's talk about the issues that divide us."
Sanders asserted that there was nothing inconsistent about his criticism of Clinton's industry ties and his pledge to run an issue-oriented campaign.
"There is a reason why these people are putting huge amounts of money into our political system," Sanders said, linking industry contributions to policy outcomes. "In my view, it's undermining American democracy and allowing Congress to represent wealthy campaign contributors and the working families of this country."
In making that linkage, Sanders underscored the central tension in his desire to run a campaign that is both policy-focused and positive: It's often hard to clearly define policy differences on issues like wealth and industry power without making critiques that call into question your opponent's motives.