Hillary Clinton Comes Under Fire for Death Penalty Support in Democratic Debate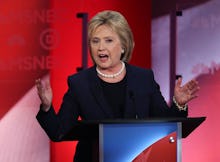 Presidential hopeful Hillary Clinton drew ire from progressives Thursday night after she reaffirmed her support for capital punishment during the Democrats' fifth primary debate in Durham, New Hampshire.
Asked by MSNBC's Rachel Maddow whether she still supported the use of the death penalty, Clinton replied, "Yes, I do."
"What I hope the Supreme Court will do is make it absolutely clear that any state that continues capital punishment either must meet the highest standards of evidentiary proof of effective assistance of counsel or they cannot continue it because that to me is the real dividing line," Clinton added. 
The former secretary of state said she supported capital punishment "for particularly heinous crimes in the federal system like terrorism," approvingly citing the 2001 execution of Timothy McVeigh, the anti-government extremist who bombed a federal building in Oklahoma City, Oklahoma, in 1995.
Progressives and civil libertarians stormed Twitter with fierce criticism of Clinton's stance, arguing it put her at odds with her pledge to pursue a more equitable criminal justice system:
A Democratic divide: Meanwhile, Clinton's Democratic rival, Sen. Bernie Sanders (I-Vt.), doubled down on his opposition to capital punishment.
"No. 1, too many innocent people, including minorities, African-Americans, have been executed when they were not guilty," Sanders said. "But second of all, and maybe in a deeper reason, of course there are horrible acts out there, but in a world of so much violence and killing I don't believe the government should be part of the killing."
Most Democrats agree with Sanders' stance: According to a Pew Research Center survey from April, only 40% of Democrats support capital punishment, while 56% oppose it.