This College Student Was Forced From Her School's Gym Because of a Dress Code Violation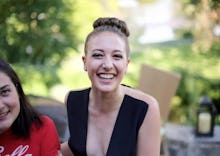 An 18-year-old freshman at Santa Clara University in northern California says she was ejected from her school gym for wearing this outfit.
Grace DiChristina, a sociology student, said she was told by school officials her outfit was inappropriate for the school's Jesuit character, and that it could even spread the deadly MRSA virus. But DiChristina wasn't buying it. 
"The fact that this is a Jesuit school should absolutely not be linked to the dress code at the gym," she wrote in a Facebook post. "I do not go to the gym to be sexualized or looked at by other people — I go to improve my health and my self-confidence.
"Being told to leave the facility because my outfit is inappropriate is more than just annoying; it's humiliating and degrading."
While the Centers for Disease Control and Prevention does note that "MRSA infection risk can be increased when a person is in certain activities or places that involve crowding, skin-to-skin contact and shared equipment or supplies," DiChristina didn't buy that reasoning either.
"I absolutely agree that MRSA is a serious illness and we should address it. However, shaming women for what they wear to the gym is not the way to prevent it," she wrote. "Not sharing towels and wiping down machines are much better ways to prevent MRSA than forcing women to either cover their stomachs or leave."
Santa Clara spokeswoman Tina Vossugh later clarified that the school's Jesuit standards had nothing to do with why DiChristina was asked to leave and doubled down on the explanation the matter was one of public health. 
Gym "participants must wear a T-shirt or tank top," she told BuzzFeed, adding that "MRSA thrives in sweat and that is why our university and many others nationwide are working toward limiting as much skin contact as possible with equipment and wearing enough clothing to catch sweat as you are working out."
Maybe, but DiChristina's Facebook friends seemed to side with the student. 
Believe it or not, DiChristina's has fought dress codes before. In 2013, she and her sister appeared on HuffPost Teen after they led a protest against their school's dress code, which they said encouraged fat shaming. In the past, cases of dress codes accused of sexism have emerged across the country from Biglerville, Pennsylvania, to Bangor, Maine, to Versailles, Kentucky, to this anonymous prep school.
And if DiChristina's case is any guide, the issue remains far from settled.