Jay Z's Tidal to Donate $1.5 Million to Black Lives Matter, Other Social Justice Groups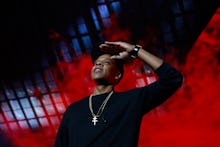 Jay Z's global music and entertainment platform Tidal in association with Roc Nation is donating $1.5 million to Black Lives Matter and several other local and national social justice organizations, Tidal announced exclusively to Mic on Friday — the same day Trayvon Martin would have turned 21 years old. The streaming service raised the $1.5 million at the first Tidal X: 10/20 charity concert in Brooklyn, New York, featuring Beyoncé, Nicki Minaj, Jay Z, Lil Wayne and Nick Jonas.
Tidal's group of artist owners, which includes several of the musicians who performed in October's sold-out show including Beyoncé, Nicki Minaj and Jay Z, took part in deciding which organizations would receive funding, the streaming service told Mic. The majority of the groups to benefit are social justice activist groups and organizations, with a large portion of these specifically committed to ensuring the nation understands that black lives matter.
Tidal's grants will be administered through the New World Foundation, which funds several civil rights groups and social movements. The nonprofits Tidal will fund include Opportunity Agenda, Hands Up United, Sankofa.Org, as well as local organizing groups in California: Community Coalition; Florida: Dream Defenders; Illinois: Black Youth Project; Maryland: Baltimore Justice Fund; Empowerment Development Corporation; New York: Million Hoodies; NY Justice League and Ohio: Ohio Students Association/Organizing Collaborative. 
According to Tidal, donations will also be given to organizations created by the families of victims of police brutality, including the Trayvon Martin Foundation, the Michael O.D. Brown We Love Ours Sons and Daughters Foundation and the Oscar Grant Foundation.
Music meets social justice: "The process of acquiring recommendations [for nonprofits] was collaborative and inspired by the message that speaks to racial and social inequities and injustice in our society," Dania Diaz, managing director of philanthropy at Roc Nation, told Mic. "Each year we will support a different initiative. Our ideology is to have a hifi level of consciousness in everything we do."
The move is Tidal's largest commitment to supporting social justice activism to date. However, even before the October concert, many of the Tidal's artist owners had already begun using their own work to speak to the movements the grants will now support.
During the Tidal X: 10/20 concert, Usher performed his single "Chains," which focuses on police brutality and racial injustices seen throughout the United States, live for the first time. Prior to the show, he debuted it with an online visual experience, which required users to look into the faces of unarmed people of color who have been killed by police over the past few years. Tidal synchronized with listeners' webcams to make sure they didn't look away. 
If they did, the music would stop, and it only continue once listeners looked back at the lives lost with a message that read: "Don't look away." 
Since then, Usher has continued his focus on racial equality, releasing a follow-up music video for "Chains," which shows him being followed by police and later attending his own memorial service in a church. Usher also kicked off 2016 by hosting an artists collective in New York City on Friday and Saturday, where several artists displayed works focusing on social justice.
Mic polled Twitter users to see what they'd like to hear him discuss at the event, with the majority voting to hear Usher's thoughts on the water crisis impacting thousands of residents in Flint, Michigan. "We need to explode the issue," Usher told Mic about the crisis during the event's after-party. "This issue is far deeper than what's on the surface. We have to go deeper and find the solution, and address that."
Other Tidal artists have shared their thoughts with Mic on major issues impacting our generation, including several of its budding stars during Tidal X: 10/20. "The biggest challenge facing our generation is confidence," singer and model Justine told Mic. "Because of social media, it's kind of a downer, and people let it take over their lives." 
"Seventeen" singer and fellow "Tidal Rising" artist Alessia Cara agreed. "The biggest challenge facing our generation is that we only have 10 seconds to say how we feel," Cara told Mic. "I think that's a big challenge, yeah, social media."
When asked whether he felt racial injustice is one of this generation's biggest challenges, Rick Ross told Mic there are several major hurdles youth are facing. "We already know in this generation the biggest obstacles, and there's a lot of them, ya dig?" Ross told Mic. "We're fighting one of them right now. Y'all better just hold your head up. Boss." 
"Tidal X: 1020 was the first of a series of philanthropic music events curated by Tidal in order to raise awareness, funds, conscious engagement and dynamic action for transformative and positive social impact," Tidal said in a statement to Mic. "All of the organizations selected work to uphold the purpose of the Tidal X: 1020 Fund, which is to support nonprofit organizations dedicated to advancing positive community relations and effecting systemic change for the development and sustainability of just societies."
Grant recipients will receive Tidal's donations through the New World Foundation this month.