'Portlandia' Season 6 Episode 3 Recap: Bad Sex, Turkey Basters and Big Moves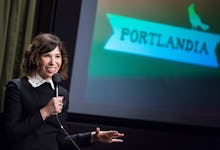 Vincent Sandoval/Getty Images
The third episode of season six of IFC's hit comedy series, Portlandia, which stars Fred Armisen and Carrie Brownstein, played out Thursday night, owning up to the promise to "Keep it weird." The episode boasts guest appearances from American actress Alia Shawkat  (Arrested Development) and Portlandia vet and American actor Kyle MacLachlan. Previously on Portlandia, Fred and Carrie's characters make a verbal agreement to have a baby together, which sets the stage for a an awkward opening to the episode where the two sit facing each other from their respective beds discussing how the'll get the job done. Hilarity ensues (fair warning, spoilers aplenty).
"Do you want to dry hump?" Armisen asks? "I picture eyes closed, maybe hands out to the side," Brownstein responds. IFC teases the episode with a brief, "Fred wants to do something big with his life so he moves to Austin. Carrie is surprised when unexpected guests arrive and she finally experiences motherhood."
Read more:
In keeping with the season's theme of tackling life's heavier subjects (Armisen previously confronted his mortality in the season after his hair turns gray), episode three sees Armisen trying to grapple with trying to "do something" tangible with his life, a problem he decides to solve by moving to Austin, Texas. "Do I have to apply?" Armisen asks.
For her part, Brownstein decides to use Portland's mayors sperm instead of trying to make it work with Armisen. What plays out is a crash course in motherhood, after the mayor's grown kids show up expecting Browstein to take care of them. "So you want me to raise your kids?" a confused Brownstein asks the mayor over the phone. "These kids don't have any manners! They're all over my kitchen! They're drinking my orange juice!"
When confronted with trying to choose a neighborhood in his new stomping grounds, Armisen has to first figure out which area of town is "cool." He watches a cautionary video that deconstructs his options, which opens the door for the winning line, "It's the kind of neighborhood with an intimidating cat."
When he can't quite figure it out, he's advised that the grandest move of all is a move abroad, boards a row boat and joins a musical ensemble, during which time one of the chorus member sings, "Because Paris is cool and America's dumb."
Back in Portland, Brownstein butts heads with the mayor's kids and, after they "turn on her," a cutaway shot shows Brownstein feeling nostalgic and melancholy in the grocery store passing by the orange juice. What happens next is a dramatic play put on by the mayor's kids, which features a not-too-kind portrayal of Brownstein (and more than one reference to orange juice). "This is a terrible play, but I just feel pride," Brownstein reacts, realizing the true meaning of parenthood, "What's happening?" 
The episode ends with Armisen crashing what would be Brownstein's wedding, a scene in which he suggests they get married and Brownstein refuses. Yet the episode ends on a high note when Armisen sums up why the two's friendship have lasted the test of time: "Whether or not we accept ourselves, we accept each other."