This Is How the NFL Is Going to Handle Domestic Violence Awareness During the Super Bowl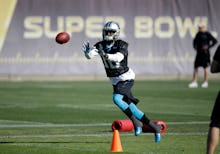 The NFL has a long-standing history of failing to acknowledge domestic violence. But the league will publicly address the issue during the Super Bowl on Sunday by airing an anti-domestic violence ad produced by the organization NO MORE.
The 2016 PSA, which follows 2015's inaugural collaboration with NO MORE, features a text exchange between friends, one of whom is trying to convince the other to attend her Super Bowl party. 
"Don't think it's a good idea," Jess texts in response to the invitation. "Jake is in one of his moods. I should prob not go out."
When Jess' friend asks if she's OK, she begins to type back — indicated by the three dot ellipses symbol — but ominously never responds.
"This PSA captures how most young people — and many others — use texting to communicate and how sometimes saying a little says a lot," NO MORE director Virginia Witt said in a statement, according to Business Insider. "Learning more can empower people to have potentially life-saving conversations and reach out for help. We hope this will be one more step toward the culture change we are seeking around domestic violence and sexual assault."
Plenty of high-profile cases, like that of Ray Rice, Greg Hardy and far too many others, have made headlines in recent years. In fact, authorities have pursued over 50 domestic violence cases against NFL players since September 2006, according to a 2014 USA Today report. A 2015 study found that between 2000 and 2013, NFL players were arrested for violent crimes at a higher rate than 20- and 30-something men overall as well as the overall rate in the 21st century, the Huffington Post reported.
Domestic violence is also a widespread problem beyond the league. One in 3 women and 1 in 4 men have experienced some form of physical violence by an intimate partner within their lifetime, and intimate partner violence accounts for 15% of all violent crime, according to the National Coalition Against Domestic Violence. More than 114 million people tuned into the 2015 Super Bowl, according to the NFL. The latest ad could do much to reach countless Americans affected by violent behavior.
As crucial as this ad could prove to be, the ultimate goal may be to create a culture in which it is unnecessary. 
As Rice told ESPN's SportsCenter in November, "It really shouldn't take photos or anything to understand the severity of domestic violence." 
h/t Business Insider