Wiz Khalifa's New Album: Here Are the Lyrics Off 'Khalifa'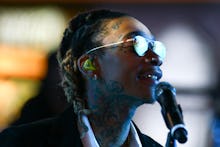 Andy Kropa/AP
On Friday, in the wake of a digital feud with Kanye West, rapper Wiz Khalifa, born Cameron Jibril Thomaz, dropped his follow-up album to 2014's Blacc Hollywood called Khalifa. The 13-track LP, which features artists such as Rico Love, Travis Scott and Chevy Woods, is available on iTunes.
Like his previous track record, Khalifa uses his new namesake album to rap about smoking marijuana, living the Taylor Gang lifestyle and ignoring the haters, obviously. "I just like to know what's the same," Khalifa said about the new album in a radio interview with Hot 97 on Tuesday. "It's consistent. It's really good music. I like to focus in on some good subjects that people really love from my music."
Read more:
The album opens with "BTS," which recounts Khalifa's success while trying to stay grounded. "Try to be the best that I can/ They got the right decisions, handle it like a man/ You know I try to do shit with my heart/ They talk but I don't listen," according to lyrics from MusixMatch. After all, the rapper is nominated for three Grammys this year. 
In January, Khalifa dropped the single "Bake Sale," in which he and Travis Scott rap about spending the day getting high in a variety of ways — including edibles, flowers and inhalers — and having sex in Khalifa's well-stocked crib. In the song, Scott raps, "At my bake sale yeah/ We can't wait to bake, hell yeah/ Laughin' off this drank, hell yeah/ Lovin' havin' sex, hell yeah," according to Genius. 
In the autobiographical "Zoney" — which ends with Khalifa's son Sebastian mimicking his father's trademark laugh — Khalifa sings about fatherhood and exceeding expectations with his rap career, according to lyrics from MusixMatch. "I remember spending summers in the studio/ My pops told me have fun be a kid for once/ What he ain't know, was for a kid a that I had big dreams."
Khalifa announced his album on Twitter, saying, "Go cop it and smoke some weed."