President Obama Will Support the Future of Transportation by Taxing Big Oil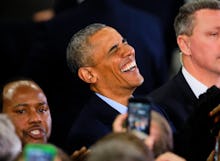 Here's a clear indication that exiting President Barack Obama no longer cares what anyone thinks. He's just introduced a budget that would tax oil companies $10 per barrel of oil in order to fund the future of transportation, according to a new release from the White House. 
Obama's plan to produce a new cleaner transit system includes guidelines for how to trim carbon emissions, build out new public transit systems and introduce the latest and greatest in car technology onto U.S. roadways. But it comes with a big price tag: more than $30 billion. 
That figure will likely cause a collective jaw drop from Republican Congress members. Still, even if the budget doesn't pass, the bold proposition of taxing oil companies will force some hard debates inside the Democratic party over how to bring down carbon emissions and make getting around easier for everyone. 
"Today, our transportation sector accounts for 30% of U.S. greenhouse gas emissions. A new approach to our transportation system can help to speed goods to market, expand transportation options, and integrate new technologies like autonomous — or self-driving — vehicles while at the same time reducing our reliance on fossil fuels, cutting carbon pollution and strengthening our resilience to the impacts of climate change."
Public transit overhaul. The new plan calls for $20 billion plus whatever the government is currently spending annually to be invested in new greener public transportation systems that will coax people into using their cars less, according to the White House's release. The new infrastructure will tackle cities, suburbs and rural areas. It aims to reduce carbon emissions and fossil fuel consumption within transportation systems. 
The memo also mentions implementing air flight alternatives like high-speed rail like Shanghai's Maglev and an overhaul of freight systems. Though it doesn't explicitly propose funding for the Hyperloop — a conceptual super high-speed transit system that at least two companies are currently building — it does make room in the budget for "high-impact, innovative local projects." 
Another $10 billion is slated for state and local governments that take initiative toward building new regional transit systems that defy traditional planning in favor of smart design and cost efficiency. From that $10 billion, some money will be allocated towards the new Climate Smart Fund, which will provide rewards to states that can get more people using public transit, put money into environmentally friendly buses and trains and/or find new and better ways to bring down a region's overall transit carbon footprint. 
The future of transportation: President Obama's plan includes provisions for the inevitability that cars will soon drive themselves. He thinks $2 million should be spent on research and development of innovative new smart green vehicles, including fuel-efficient airplanes, charging stations for electric vehicles and autonomous cars.
Self-driving vehicles are the "it-girl" of both Silicon Valley and the car industry. Volvo, Uber, Google, Tesla, Apple and others are investing tons of money into this future class of cars. President Obama wants to make sure that these new vehicles are safely shepherded onto our nation's roadways and into transit networks already in place, so he's added another $400 million to the budget to make sure this happens. 
Jobs and energy costs: The proposal says that this money will also fuel hundreds of thousands of "good paying middle class" jobs each year, though it declines to specify how these jobs will be created and how the government will train people for these new jobs. It also says that the government should help offset energy costs for individuals paying a lot of money to heat their homes with older forms of energy, particularly in the Northeast, and take steps to switch those people over to greener forms of energy. 
"Our transportation system is heavily dependent on oil."
Out with oil: "Our transportation system is heavily dependent on oil," reads the White House memo. That is why President Obama wants to put a hefty $10 fee on barrels of oil. That cost, he hopes, will not only feed this expansive transportation program but also spur private innovation.  
President Obama has been preaching the need to switch away from oil since the beginning of his presidency. In the years since, the U.S. has made substantial investments in solar energy and wind farm projects. 
The rhetoric surrounding his support for clean has only gotten stronger. "We've got to accelerate the transition away from old, dirtier energy sources. Rather than subsidize the past, we should invest in the future — especially in communities that rely on fossil fuels," President Obama said at the State of the Union address this year. This newly released blueprint for combating inefficient energy systems is further evidence that President Obama thinks this is an issue worth paying attention to. 
But unless this budget miraculously passes, next steps will largely be dependent on who's elected the next president of the United States.