Elton John 'Wonderful Crazy Night': Lyrics, Streaming and Download Options for New Album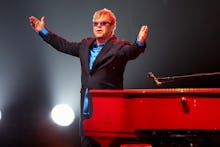 Rich Fury/AP
On Friday, legendary British singer-songwriter Elton John released his new album, Wonderful Crazy Night, which trails 2013's The Diving Board. The release marked the prolific artist's 33rd studio album (the first LP to surface from the now-68-year-old was 1969's Empty Sky). The artist, who was born Reginald Kenneth Dwight, is described as "one of the most highly acclaimed and successful solo artists of all time," according to his Facebook page. Wonderful Crazy Night is available for streaming on services such as Spotify, and is also available for purchase through the artist's site or through iTunes. 
According to a statement on the artist's website, Elton John co-produced Wonderful Crazy Night with T-Bone Burnett, and features percussionist Nigel Olsson and guitarist Davey Johnstone. The stylings of bassist Matt Bissonette, keyboardist Kim Bullard and percussionist John Mahon are also staples on the LP. 
Read more: 
"Wonderful Crazy Night also marks the continuation of Elton's incredible, inexhaustible songwriting partnership with Bernie Taupin," reads the statement. "These outstanding and evocative new co-writes represent the latest fruits of a friendship that now dates back 48 years."
Lyrics: In the album's lyricism, the artist often waxes poetic. "Ice cubes on the back of your neck," he sings on the album's opener and title track. "Warm wind blowing through the parking lot / A radio humming in every car, and it feels like the clocks have stopped / Calypso moon just cast its spell / We grabbed that magic just because / We remember and never forget what a wonderful crazy night that was." 
On "Blue Wonderful," the lyrics are a bit more romantic. "And you're so well, blue wonderful," he sings. "Blue wonderful to me / Like swimming in your eyes / I dive in, I dive deep, I just swim / I lose myself in you, blue wonderful / Blue wonderful again."
And on "Looking Up," Elton John is as positive as he is reflective. "You drop a bucket in a well / It's dark and deep down there," he sings. "Crank the handle, bring it up / The water, crystal clear."
For those unfamiliar with or need a reminder of this musician's masterful talent, here's a video of the artist performing perhaps one of his best-loved tracks, "Tiny Dancer."
Wonderful Crazy Night track list:
1. "Wonderful Crazy Night"
2. "In The Name Of You"
3. "Claw Hammer"
4. "Blue Wonderful"
5. "I've Got 2 Wings"
6. "A Good Heart"
7. "Looking Up"
8. "Guilty Pleasure"
9. "Tambourine"
10. "The Open Chord"
Deluxe Bonus Tracks:
1. "Free And Easy"
2. "England And America"
Super-Deluxe Bonus Tracks:
1. "Free And Easy"
2. "Children's Song"
3. "No Monsters"
4. "England And America"