"BTS" Lyrics and Meaning: Wiz Khalifa's New Album Opener Is Classic Khalifa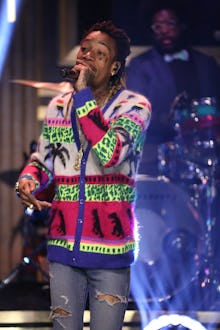 NBC/Getty Images
"BTS" is the opener on rapper Wiz Khalifa's fresh fourth studio album Khalifa, which dropped Friday, and the four-minute rap is essentially about Khalifa defying people's low expectations of him and getting rich. 
"You know I tried the niggas that said I can't," Khalifa raps in the hook, the song's most meaningful lyrics. "They got the right decisions, handle business like a man/ You know I try when people say I should change/ Sometimes I'm done with trying, I'm just trying to be the same."
Read more:
The verses are all about his fabulous lifestyle as a rich rapper: "Tatted everywhere my full body full of scriptures/ Pull up in the phantom/ Paparazzi takin' pictures/ Sellin' so much swag/ We should be your swag vender."
The full lyrics to "BTS," which likely stands for behind the scenes, are available on Genius.
The album is available on iTunes for $9.99 and includes several collaborations with hip-hop artists like Travis Scott, Ty Dolla Sign, Juicy J and Khalifa's toddler son, Sebastian. The sound and lyrics on Khalifa are typical Khalifa, a consistency he said in an interview on Hot 97 is intentional. "It's consistent, it's, um, it's really good music. I like to focus in on some good subjects that people really love from my music," he said.