Super Bowl 50 Commercials 2016: Here Are the Best Super Bowl Ads Released so Far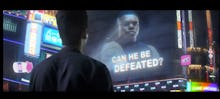 Mic/YouTube
Eager football and wing enthusiasts won't have to wait much longer — on Sunday, the Denver Broncos and Carolina Panthers will duke it out in Super Bowl 50. While all eyes will be on the Broncos, Panthers and the much-anticipated Super Bowl halftime show by Coldplay, another Super Bowl staple is the lineup of commercials. 
After all, as the most watched television event year in and year out, it's important for advertisers and brands to distinguish themselves with unique and meme-worthy commercials. Each year, it's becoming more common for advertisers to make the most of their costly ad campaigns by releasing the TV spots online before the game. Ahead of Sunday's game, here are the best Super Bowl commercials that have been released thus far. 
Read more: 
Pokémon — "#Pokemon20"
To celebrate their 20th anniversary, Pokémon released its first Super Bowl commercial, featuring athletes, chess players and of course, Pokémon masters. It's a nostalgic ride for Pokémon fans who were raised with the long-running franchise, while providing newer, younger fans a fresh perspective of the Pokémon universe. 
Snickers — "Marilyn"
To follow the Snickers theme of "you're not you when you're hungry," this year, actor Willem Dafoe assumes the role of Marilyn Monroe and her iconic white dress from the 1955 film The Seven Year Itch. 
LG — "Man From the Future"
LG Electronics also unveiled its first Super Bowl ad this year, enlisting the help of director Ridley Scott and Liam Neeson to explain the "future" of television. It has a Tron Legacy-ish, sci-fi vibe, and Neeson's trademark gravel provides plenty of intense exposition. 
Audi — "Commander"
Audi's latest Super Bowl commercial bears more emotional weight with the unexpected death of David Bowie in January. In it, a retired astronaut finds a similar thrill to his former job behind the wheel of an R8, with "Starman" as the backdrop. While the Super Bowl edition will be 60 seconds, Audi has released an extended, 90-second version on YouTube. 
T-Mobile — "Restricted Bling"
T-Mobile cleverly capitalizes on the ongoing popularity of Drake's single "Hotling Bling," suggesting tweaks to his song to describe the meticulous ways in which phone carriers can help their customers. The adjustments aren't as catchy as the original track, though. 
Death Wish Coffee Co. — "Storm's a-Brewin'" 
The New York-based coffee company won a commercial spot for the Super Bowl, worth an estimated $5 million, according to Re/Code. The small-business software and services company Intuit actually bought the slot, but it was Death Wish Coffee that garnered the free publicity with a clever take on the power of their beans' caffeine. 
Squarespace — "Real Talk With Key and Peele"
The best part of this commercial is that the concept is actually coming to fruition. In the spot, the comedic duo aspire to be sports commentators, and will have a livestream of their analysis of the game on their Squarespace website. They're actually going to do this, without even talking about the game, according to AdWeek. 
"They've pooled their resources together and set up a website on Squarespace for the live broadcast, with one massive oversight — they don't have the rights to talk about the actual game," according to a press release obtained by AdWeek. "They decide to move forward with the plan anyway." The livestream can be accessed here. 
Avocados From Mexico — "#AvosInSpace" 
Avocados in space? Avocados in space. In Avocados From Mexico's latest Super Bowl venture, a group of aliens tour the "Museum of Earthly Wonders," which includes a brief description of our language, emojis and an entrapped Scott Baio. The aliens aren't that impressed, until they try some guacamole and chips. Just don't double dip. 
Colgate — "#EveryDropCounts"
Though it's not funny, not all Super Bowl commercials have to be. In Colgate's case, the company uses the spot to create a PSA on saving water. Colgate encourages people to turn off the faucet while brushing their teeth, as it can waste up to four gallons of water — more than some people around the world get in a day. It's a simple but important message. 
Doritos — "Ultrasound" 
Doritos actually has yet to formally announce its Super Bowl commercial, as it has three finalists for its "Crash the Super Bowl" contest. However, "Ultrasound" not only stands as the best commercial of the three, but one of the funniest Doritos commercials to date.