If Kim Kardashian's Emojis Spiced Up Your Sexting Game, Wait Until You See Her New GIFs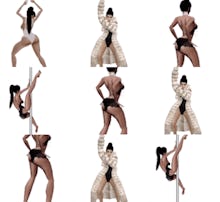 In December, 35-year-old California woman Kim Kardashian West revolutionized our sex lives by debuting her custom emoji collection, Kimoji. Now she's added Kimogifs to the menu, expanding into the realm of GIFs — the medium for which she was pretty much born, TBH.
Here's a Kimogif of Animated Kim gyrating from within the comfortable confines of a plush 'n regal floor-length fur coat, which we can only assume is faux.
Talk about a sext! If that GIF doesn't send the message of "I'd like to ride your wiener" (and/or "I'd like you to ride my wiener") to your intended hookup partner, then your intended hookup partner is really bad at picking up on context clues and probably doesn't deserve to get laid anyway.
Even steamier than the gyrating fur coat GIF is the series of Kim-being-a-stripper GIFs.
Oooh, that's interesting! Especially considering that just a week ago, Kim's husband, a cocky rapper of some renown named Kanye West, slut-shamed his ex-girlfriend Amber Rose for being, uh, a stripper.
"You let a stripper trap you," he spat at nemesis Wiz Khalifa in a now-deleted tweet before gleefully tweeting a video of his wife stripping in Kimogif form. 
Kanye and Kim: What's good?
In any case, the rest of the Kimoji updates appear to be similarly sexual and ass-centric, which is probably a smart market move when you consider that sexting is a favorite activity for humans of all ages and walks of life, from teens to millennials to baby boomers.
But not all Kimogifs will up your sext game! Some are just fun and useful for when a friend gets out of line in the group text. For example, Kim recreated her infamous IRL "don't be fucking rude!" meltdown for the app.
In human form, it looks like this:
But for $1.99 at the app store, you could get it in ~Kimogif~ form, which looks like this:
On second thought, maybe that could be a sext after all. People are into some pretty rough shit these days.
h/t Marie Claire