Wiz Khalifa's "Celebrate" Lyrics: Meaning Behind the Second Track Off 'Khalifa' Album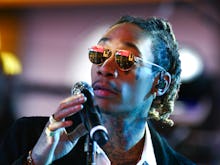 Andy Kropa/AP
Rapper Wiz Khalifa's latest album, Khalifa, dropped on Friday, his first studio album since 2014's Blacc Hollywood. The album's second song, "Celebrate," featuring singer and rapper Rico Love, is a classic boast track, full of swagger and bravado, and, since it's Wiz, a lot of references to smoking marijuana.
The song kicks off with the intonation "smoke weed everyday," a phrase made popular by some other pot-loving hip-hop stars, Snoop Dogg and Dr. Dre, in their 1999 collaboration "The Next Episode." Then Wiz kicks into the first verse, a celebration of wealth in the form of fancy cars ("Driving cars brand new cars"), smoking quality marijuana ("OG Kush in my plane") and wearing expensive jewelry ("Diamonds all in my chain").
Read more:
Basically, Wiz is living the life — hence the title of the song, "Celebrate." The chorus, sung by Rico Love, is more of the same: "Smoke, drink, blow checks  Rolex, more sex/ Cause I can afford it."
In the second verse, Wiz elevates the rhetoric with lyrics about how his fancy stuff is so great, it will literally take on his haters: "Homie, that ain't the shit / My chain shit on your car / My rolex fucked your bitch."
"Celebrate" is, quite literally, a celebration of wealth, success and extravagance. Full lyrics are available from Genius.