"Elevated" Lyrics: Is Wiz Khalifa's New Song a Motivational Track For His Son?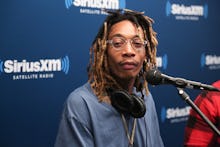 Rob Kim/Getty Images
After a delayed release, Taylor Gang founder Wiz Khalifa's latest album Khalifa was finally made available for listeners on Friday. Born Cameron Jibril Thomaz, Khalifa raps about his career, family and signature love for marijuana on the new album. The third song off the album called "Elevated" is more like an address by Khalifa — possibly to his son — on working hard and never giving up on a dream.
Khalifa spends the song directly rapping motivation out to someone, "You gotta grind if you really want it/ Don't hesitate/ You came this far now finish out your whole dream/ Nobody said it'd be easy though, just stick to your plan/ They don't understand/ Going up against the odds/ Having no regards," according to the lyrics from Genius. 
Read more:
The song has an overarching theme of making money and being successful, as he sings, "Just got a bigger safe, now it's time to fill up." 
Khalifa also dives into a personal account of his own rise to the top, and about the fake rappers in the game. He sings, "We ain't check they chains/ We ain't put 'em on blast and expose them fools for everything/ We ain't tell you how they really lames/ And that they don't do shit that they get on TV and say/ We ain't mad though, we on the coast of France for three days."
In the song, he also supports self-startership, saying how he makes his own laws and encouraging to be "your own boss."
This mindset has paid off, since Khalifa is nominated for three Grammys this year.