Sanders Catches Up to Clinton Nationally Just Days Before New Hampshire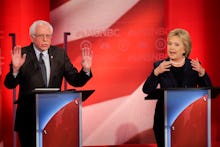 Just ahead of the New Hampshire primary and only days after a photo finish in the Iowa caucuses, Hillary Clinton and Bernie Sanders are in a dead heat for the Democratic presidential nomination, a new poll shows.
A Quinnipiac University survey of registered Democrats nationwide released Friday shows Clinton with 44% support, Sanders 42% and 11% undecided — a dramatic shift from the 61% to 30% beating she was throwing Sanders in Quinnipiac's Dec. 22 poll.
"Democrats nationwide are feeling the Bern as Sen. Bernie Sanders closes a 31-point gap to tie Secretary Hillary Clinton," Tim Malloy, the poll's assistant director, said in a statement.
The jury's still out on whether Clinton is likable enough too.
Sanders had a 44% to 35% favorability rating in the Quinnipiac study — the highest of any candidate. Clinton's favorability was under water at 39% to 56%.
On the Republican side, Donald Trump enjoys a solid national lead over his rivals, with 31% backing compared to 22% for Iowa caucus winner Ted Cruz and 19% for Marco Rubio. 
"While Trump, Clinton and Cruz wallow in a negative favorability swamp, by comparison, Rubio and Sanders are rock stars," Malloy said.
Trump thumping: Sanders faced a question about his electability in November during Thursday night's debate with Clinton in New Hampshire, but according to Quinnipiac, the odds are in his favor. He defeats Trump 49% to 39% in a hypothetical head-to-head matchup, while Clinton would overcome Trump by only 5 percentage points, 46% to 41%.
Rubio and Sanders tied in a potential horse race with 43% support each.
Wild card: Notably, "If former New York City Mayor Michael Bloomberg runs, he hurts Sanders more than he hurts any of the top Republican contenders," Quinnipiac pollsters reported. 
"Although he is characterized as the New York counterpunch to Trump, [Bloomberg] is more the nemesis of Bernie than he is of Donald." 
Quinnipiac polled 1,125 registered voters from Tuesday to Thursday. The survey has an error margin of plus or minus 2.9 percentage points.