ASOS Slammed for Putting a "Slave" T-Shirt on Black Model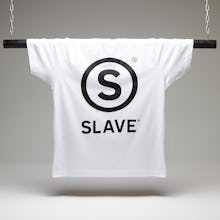 The online store ASOS is very good at making controversial decisions. 
On Wednesday, as customers browsed the pages of ASOS Marketplace, ASOS' indie multiseller sister site, they noticed a white T-shirt by the brand Wasted Heroes with the word "SLAVE" printed wide across the front. In its infinite wisdom, ASOS posted an image of the shirt worn by a black model. 
The internet, as expected, had a few things to say about that. 
The student newspaper the Tab was actually one of the first outlets to point out the uproar, and received a statement from the Wasted Heroes shortly thereafter. "ASOS [has] removed the item in question," a spokesperson confirmed to the Tab. 
Soon after that, the Wasted Heroes took to Twitter to apologize. "It really was extremely stupid of us," the brand admitted. 
So what was up with the slave reference in the first place? According to Wasted Heroes' comment to the Tab, it's a reference to being a "slave to fashion," not a literal slave. "The T-shirt was referencing that we are slaves to fashion labels hence why it is titled 'Slave to the label' and no offense was intended with this design or listing," the brand said. 
Meanwhile, ASOS was quick to not only take down the image from its marketplace, but issue a statement as well. "Marketplace is a collection of independent sellers who must agree to our terms and conditions when they join," ASOS told Mic. "Whenever we find product that violates our policies we remove it immediately. There is also a 'report this item' link under every product picture."
The incident itself might seem resolved, but its quick resolution is also a reminder of how often this happens. Thanks to fashion's tradition of being culturally insensitive and the megaphone that social media gives shoppers, stores like H&M and Nordstrom have all pulled items after backlash.
 ASOS has also run into this issue before. As recently as October, the British retailer came under fire for selling bindis on its site. Even worse, to some critics, the bindis were sold in the site's Halloween section. 
The "Slave" shirt itself, which retails for 18.99 pounds, has received a fair amount of criticism. 
But it's still on sale on Wasted Heroes' main website, modeled not by a black man, but hung on a bar that's being held up with a metal chain. 
A safer option, but maybe still not ideal?