The Gay Disney Prince Story You Always Wanted Is Here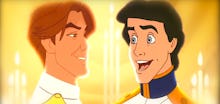 A video starring Disney's Prince Eric from the Little Mermaid and non-Disney prince Dimitri from Anastasia imagines what it would be like if they were the objects of each other's affections. 
"You Are My Spouse Now," named for the Finnish song that is its soundtrack, is a history of Eric and Dimitri's romance from their first encounter through marriage up until old age. 
The video follows the pair through a tumultuous, but happy, courtship: 
And follows the pair to the wedding day:
But, it doesn't stop there. Eric and Dimitri raise a child together. 
Well, make that two children — played by characters from other films, including Lilo and Stitch and Tarzan. 
Finally, in the present day we see Dimitri waiting for Eric, unable to sleep without him. And then Eric walks through the door and they embrace. Though it is not explicitly stated, it looks like Eric is going through treatment for cancer, and Dimitri was worried about his health. 
We even get a glimpse of them on their golden wedding anniversary, both with heads full of gray hair. 
The video, edited by YouTube user TheNamelessDoll, is garnering high praise and emotions from those who view it. 
One person wrote, "It's the first time I cried for a video ... I'm very sensitive to that kind of subject, because of my own story." 
It seems that representation truly does matter, especially when it comes to happily ever afters.