Japan Is Deporting the Star of Dolphin Hunting Documentary 'The Cove'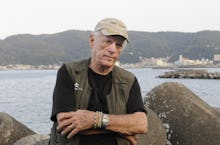 After allegedly attempting to enter Japan on a tourist visa to protest dolphin hunting, the star of the Oscar-winning documentary The Cove is set to be deported from the country. Ric O'Barry, a 76-year-old American activist, has been detained since he landed in Tokyo's Narita airport Jan. 18. 
According to the Associated Press, Japanese immigration officials rejected O'Barry's lawyer's request for an appeal. The officials contend O'Barry lied during his questioning, when he told them he was visiting Japan purely as a tourist and not to rally against the country's dolphin culls. The Guardian reported that officials also accused him of having connections to Sea Shepherd, a U.K. marine conservation charity that has an ongoing campaign in Taiji, Japan.
Taiji was the focal point of 2009's The Cove, as it's the site of the annual dolphin hunt. In the documentary, O'Barry, a former dolphin trainer who worked on the TV show Flipper and later turned to conservation, according to the Guardian, joins forces with other activists to raise awareness about the government-approved tradition.
But while the Japanese government sanctions the annual killing of hundreds of bottlenose dolphins, the U.N.'s International Court of Justice ruled against the country's 2014 "research" excursion that would result in the slaughter of 333 whales every year for the next 12 years. Researchers ignored the order.
Japan continues to have a questionable record when it comes to its treatment of marine life of any kind, though according to a Guardian report from May, aquariums voted to ban the purchase of dolphins from Taiji to break their "unethical" ties with the town. 
O'Barry's true intentions for his attempted visit to Japan remain a mystery, but a quote on his website dolphinproject.net might speak for him: "If there is a dolphin in trouble anywhere in the world, my phone will ring."