Wiz Khalifa's "Cowboy" Compares Hustling to a Modern Western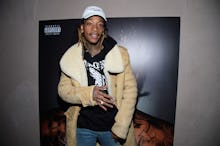 Dave Kotinsky/Getty Images
In the fifth track off of his newest and eponymous album Khalifa, which dropped on Friday, rapper Wiz Khalifa compares the life of a rapper (possibly himself) to that of a hustling "midwest cowboy" in the wild, wild west — aka Pittsburgh.
The hook basically sums up the song. It goes, "Midwest cowboy, Pittsburgh nigga/ Came from a city where the niggas they some killas," according to Genius. The song, which has a sad ending, could be Khalifa sharing a lesson about a life of hustling. 
In the first verse, Wiz raps "Twenty-thousand in his left, pistol in his right hand/ Counting every dollar that he get, cause he worked for it/ But don't run up on him cause you'll probably get murked for it/ Mom's out working, Daddy wasn't home/ Ain't nobody give it to him, so he got it on his own."
Read more:
The song has all the qualities of an old western film — like pistols and standoffs that leave someone dead — as well as modern-day elements, like clubs and dapper jewelry. 
By the end of the song, the now-successful rapper is rich, dripping in jewels and hanging out at the club. But then, the rapper meets his demise. Going off the classic rise-and-fall, Khalifa raps, "Yeah, he learned a little lesson 'bout messing with them haters/ Cause they found his body later."
Khalifa's new album also features songs with artists such as Travis Scott, Ty Dolla Sign and Juicy J. It's available on iTunes for $9.99.